Asus RT-AC5300U with eight detachable external antennas
Newly high performance Wi-Fi router introduced by Asus named as RT-AC5300U supports latest Wi-Fi ac standard.It is like a future high-tech alien spaceship with eight detachable external antennas. Asus use latest Broadcom chipset with XStream support.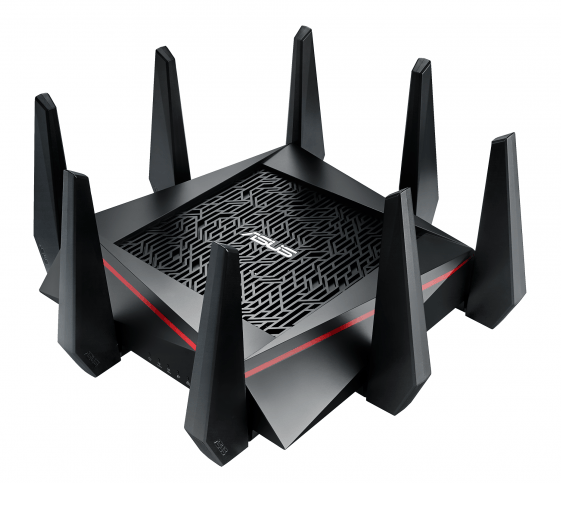 This bit different design as D-Link DIR-890L, Asus RT-AC5300U is powered by Broadcom BCM4709 dual-core 1GHz processor Cortex-A9 combined with three BCM4366 radio on for 2.4GHz and other two is 5GHz . BCM4709 has 32KB I-cache and 32 KB D-cache per core and 256 KB L2 shared cache .It is a tri-band router, D-Link DIR-890 has three separate access point (APs) one is 2.4GHz AP to supports all 2.4GHz 802.11/n/g/b Wi-Fi devices with up to 600Mbps another  two are 5GHz APs to support 5GHz 802.11ac/n/a devices,at 1,300Mbps for each, on other hand Google OnHub AC1900 which is recent introduced by google delivers 600Mbps on 2.4GHz band and 1300Mbps on 5GHz band , but in Asus AC5300U offers speed up to 1000mbps on the 2.4 GHz band and 2167mbps on 5GHz band. The total bandwidth of router provides 5,300Mbps at any time which is quite impressive over other.
Asus AC5300U router features easy-to-use and supports Asus AiProtection network security that safe from online threats.The Broadcom TurboQAM / NitroQAM technology offers highest data-rate (bandwidth) and low-latency. In this router 128 MB inbuilt flash and 256 MB onboard DDR3 RAM.
See Also:D-Link DIR-890L Wireless AC3200 Tri-Band Gigabit Router- Up to 3200Mbps Speed
Feature:
Ultra Range: – A embedded powerful amplifier, 8 high gain antennas and a advanced AC  technology are combined for enhanced Wi-Fi speed and coverage.
Next Gen 802.11ac Wi-Fi : Latest AC technology for ultra high-speed connection.
Tri-band technology  : Traffic distributed over 3 dedicated Wi-Fi band for optimize network performance and reliability.
Dual Core Processor : Gives better performance over multiple devices and provides faster throughput.
Interface: it supports 1 x Gigabit WAN port, 4 x Gigabit LAN port, 1 x USB 3.0port, 1 x USB 2.0 port.
Advanced Features :
Web setup wizard
Advanced QoS (Quality of Service) with band steering.
3G/4G cellular sharing.
FPT server and Printer server.
HDD sharing via SAMBA and DLAN.
DLNA media server support.
The big player like D-Link, Netgear, Linksys and Asus and other one are continuous investing to enhanced the technology.
Have something to add on Asus RT-AC5300U ?? share it in comments .
Follow us on Facebook, Google Plus and Twitter.