IDM(Internet Download Manager)
There is no need to mention that IDM (internet download manager) is the best and our favorite download manager . It comes with the many useful features like :It increase downloading speed up-to 5 time , resume and schedule download and many more. In this post i will try to explain most of the important and useful features of IDM .
From where to download IDM :
Features of IDM- The Best Download Manager
1.Increase download speeds by up to 5 times
IDM download a files using dynamic segmentation i.e.  download multiple segment of same file simultaneously , which maximize your connection speed . Unlike other accelerators and download managers, IDM segments the downloaded files so that it reuses available connection.  You can see this in the image below: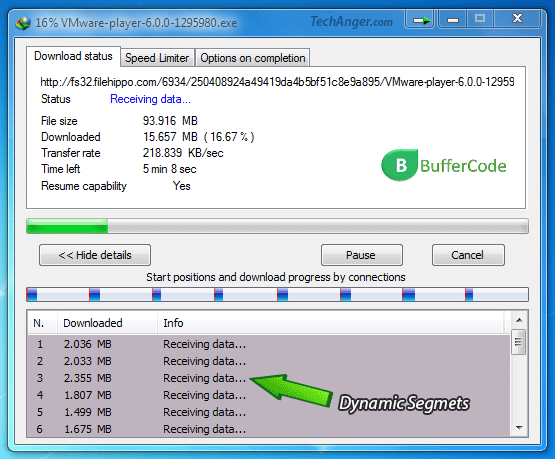 2. Resume Capability
Every one fear from the downloading failure !!.
What if your connection lost after the downloading of file more than 80% ???
May be it is the topic to fear for any other download managers users but not for IDM users ,IDM has the most useful feature capability of resume. You can resume your download from where it left and also you can pause your download.
3.Speed Limiter
Internet Download Manager has one more feature name speed limiter . Just next to the Download Status you can find it. Through speed limiter you can set a limit on speed of downloading .This feature is useful if you want to use your internet for any other work with downloading .
4.Download any video from internet
IDM has a special feature feature of VIDEO GRABBER. By which you can download any video from internet .Even from youtube you can download your videos  without using any other software like YouTube Downloader etc .
5. Supported by all popular browsers
Internet Download Manager is supported by large number of browsers like – Safari , Chrome , Mozila Firefox ,Opera ,Internet Explorer and Netscape 6 and later.
Whenever there is downloadable file ,it fetch the address of that file .
6. Site Grabber
If you want to use website in offline mode ,you can download that site from IDM . IDM can download all the pages of website with the help of Site Grabber.
7. Other features
Support proxy server
Automatic Update
Multilingual
Speed Limit
Review of IDM
I am using IDM(Internet download manager) for some year and it completely satisfied me . There are many other download managers too but no one can overlead IDM . The Resume and Video grabber are my favourite features of IDM.
If you also like manager and believe that it is best download manager ,drop a comment below to share why you like IDM and the feature you like most in IDM.
Have something to add in story?? Please share in comments.
Follow us on Facebook, Google Plus and Twitter.