A wireless desk keyboard for your computer, tablet and smartphone
Logitech K480 Bluetooth Keyboard will be available in India at Rs 2795, while it was launched by the company in 2014.
Logitech K480 keyboard uses bluetooth to connect with other bluetooth devices. Logitech K480 keyboard is compatible with Windows, Mac, Chrome, iOS and Android platforms. It simply means that you can use it for your Smartphone and tablet too. It has a dial on the top-left side to easily switch between three connected Bluetooth wireless devices. You can connect up-to three devices simultaneously with Logitech K480.
The integrated cradle holds your phone or tablet at just the right angle for you to read while you type. Most phones and tablets up to 10.5mm (0.4 inches) thick and 258mm (10 inches) wide. You can see it in image below.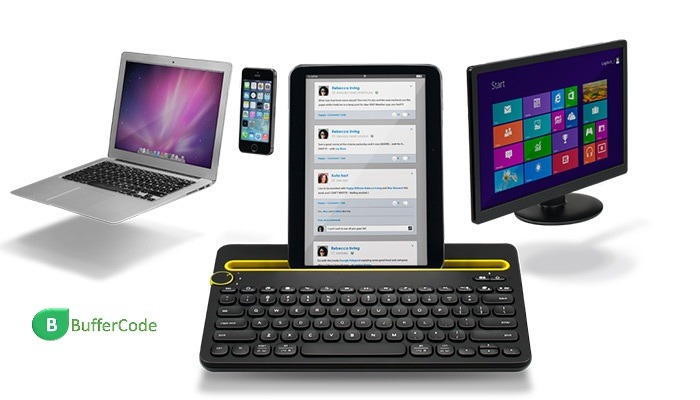 Logitech K480 BT Keyboard Features
Available in white and black.
Bluetooth range: up to 10 m (30 ft)*
Battery life: 2 years**
On/Off power switch
Battery life indicator light
Logitech K480 Dimensions
Height: 7.68 in (195 mm)
Width: 11.77 in (299 mm)
Depth: 0.79 in (20 mm)
Weight: 820 g (1.81 pounds)
System Requirements
Bluetooth wireless computers or mobile devices which support external keyboards (HID profile).

PC: Windows® 7, Windows® 8 or later
Mac: Mac OS X® or later
Chrome OS™
iPad or iPhone: iOS 5 or later
Android tablet or smartphone: Android 3.2 or later.

Internet connection (for optional software download)
Price : Rs 2795
If you are using a portable device a lot for work , specially for typing then this portable Bluetooth keyboard may turn out to be a good add-on for you. It comfortably holds the devices at right angle so that you can read comfortably while writing and helps you type faster.
Here we are sharing a video for you, you must watch it to know more.
There are some more minor improvements, if you have something to add, please share in comments.
Follow us on Facebook, Google Plus and Twitter.