Asus Zenfone 2 vs Xiaomi Mi 4 vs OnlePlus One Smartphone Battle
When we comes to performance to price ratio there is not too many smartphone that can match, but Asus Zenfone 2, Xiaomi Mi 4 and OnePlus One offer great features  under Rs. 20000 price tag.Each of them having good hardware specification, good design and very good software.These all of them have high-end models at less than Rs. 20,000. We will looking Xiaomi Mi 4 64GB variant, OnePlus One 16GB variant and Asus Zenfone 2 32GB variant.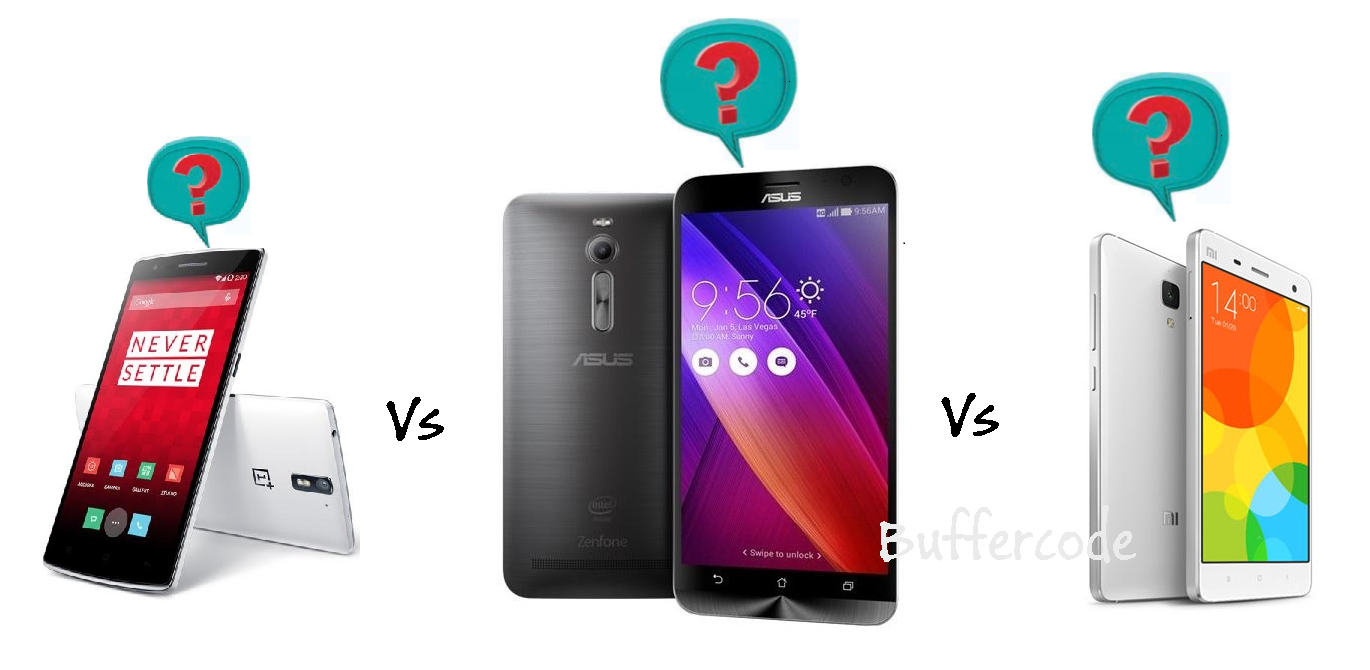 Looks and Design
The price of these phone might be closer to each other.The Xiaomi Mi 4 has smallest display size among's of them 5-inch, on other hand Zenfone 2 and OnePlus One having same screen size 5.5-inch but screen-to-body ratio and pixel density is bit different.OnePlus One has steel band along its side , the Mi 4 on a steel frame and the Zenfone 2 is an all plastic.
Hardware
All of these phones having full HD display. While the Mi 4 and OnePlus One are powered by Qualcomm Snapdragon 801 Quad Core processor supports 32-bit architecture, the Zenfone 2 comes with Intel Atom Z3580 Quad Core 64-bit processor.The Mi 4 and OnePlus One comes with 3GB of RAM while Zenfone 2 comes with 4GB of RAM.The Asus Zenfone 2 is the only phone that comes with a removable back cover and expandable memory support upto 64GB via microSD as well a Dual-SIM connectivity, but the Mi 4 has most onboard storage 64GB and its 8-megapixel takes best selfie over 5.0-megapixel on Zenfone 2 and OnePlus One.The Mi 4 is the only one among three devices which doesn't not support 4G connectivity. In terms of battery size Asus Zenfone is bit smaller than other 3000mAh, In Mi 4 has 3080 mAh and OnePlus One a 3100 mAh bettery. Asus Zenfone 2 take advantage due to its greater RAM, dual-SIM connectivity and expandable memory support.
Software
Mi 4 run's on Xiaomi's MIUI flavoure of Android and the OnePlus One, which runs on Cyanogen 12.The Ausu Zenfone 2 runs on Android with Zen UI over it, but Zen UI does not gives the richness and features on it Zenfone 2. The Asus Zenfone 2 is the only phone which is running on Android L out of the box, the OnePlus One needs to update to get it and Mi 4 is still running on Android KitKat v4.4.4.The compact size and MIUI of Mi 4 makes it easier to use than other, while the Cyanogen-powered OnePlus One is gives smoothness to handle most tasks. In terms of consistency and lag-free performance Zenfone 2 4GB RAM gives better performance over its competitor.
Value for Money
The OnePlus One is available at Rs. 18,998 ,the ZenFone 2 for Rs. 19,999 and Xiaomi Mi 4 for Rs. 17,999 (limited offer after this it will be Rs. 19,999). Both Xiaomi Mi 4 and Asus Zenfone 2 have more inbuilt storage at these price point.The ZenFone comes with 4GB RAM and dual-SIM connectivity and Android Lollipop.
Have something to add ?? share it in comments .
Follow us on Facebook, Google Plus and Twitter.