Dell Venue 8 7000: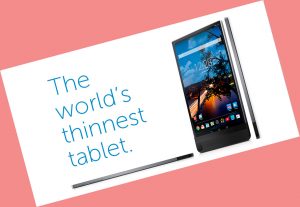 Dell Venue 8 7000 is a newest thin tablet. It is made Dell company. It is coming soon.
Sony Xperia Z2 was the thinnest tablet last year. Sony Xperia Z2 was 6.4mm thin. Apple Company also launched iPad Air 2 on 16 October. iPad Air 2 is 6.1mm thin. To see features of new iPad click here. Dell Venue 8 7000 is thinner than both.
So you will be probably think that something else new in technology.  Sure! Michel Dell announced to make new device. This announcement was made in Intel Developer Conference.  The Conference was held in San Francisco. This new device was Dell Venue 8 7000.
Dell Venue 8 7000 release date:
There is no news about the exact release date. But as rumors, Dell Venue 8 7000 will be launched in November, 2014. It means it is coming in next month.
Dell Venue 8 7000 price:
Dell Venue 8 7000 price is not mentioned yet. But Dell is making it thinnest tab. So, they should keep reasonable price to compete in market.
Dell Venue 8 7000 features:
Display:
Its unique feature is its thinnest. It is 6mm thin. Therefore, it is world's thinnest tablet yet. Because new iPad is 6.1 mm thin. We can go anywhere with it easily.
Its screen size is 8.4 inch. OLED technology is used for screen. Its resolution is 2560X1600 pixels. Its OLED panel is like Samsung panel. Its thickness is 0.24-inch.
Processor:
Its processor is quad-core Intel Atom Z3580. Its processor speed is 2.33GHz. Its RAM is 2GB. It has 16 GB internal storage. It also has external storage. micro SD card will be used as external storage. This is used to extend its internal storage.  It will be up to 32 GB.
Operating System:
The Operating System is Android 4.4 KitKat.
Wi-Fi:
Only Wi-Fi model will be available at start. But, it may support 802.11a/b/g/n.
Camera:
Its camera is 8-megapixel with RealSense technology. It is the first tablet which uses RealSense Technology. It uses three cameras.
What is RealSense? RealSense is like a Microsoft Kinect,Amazon Fire Phone and Trusted Reviews note. It is also like leap motion.
We can change the focus of photo after capturing. We can also measure the objects within image. It also tracks the gestures of 10 fingers. It has facial recognition and 3D scanner features. This technology also can measure your moods. To see How RealSense technology works visit link to see video: http://www.intel.com/content/www/us/en/architecture-and-technology/realsense-overview-demo.html
Some say that Dell Venue 8 7000 is "the tablet camera of future".