Today, YouTube is the largest video sharing websites in the digital world. Per day millions of people sharing millions of new videos on various topics. You can search any topic about your lifestyle, health, gaming, sports, study or anything that comes in your mind, you will get it on youtube. And when we find a beautiful video out there then we want to save on our phone. So we can watch it whenever we want, wherever we want, even without an internet connection.
But unfortunately, downloading Videos from YouTube using the official YouTube Android app is not possible. You can just watch those videos using internet connection. But the good news is, YouTube started a new service for all users called YouTube Red. By subscribing to youtube red, you can download videos from YouTube using the Smartphone or Tablet.
But there is a problem, YouTube Red is not available in many countries and you need to pay an Amount per month even if the service is available in on your country.
However, recently YouTube added a new feature on their Android App called Offline Video that allows saving videos on your device. But this feature is not available for all videos, also you can just download only a few of videos using this option.
Steps to download YouTube video using offline video option:
Step 1: Open the YouTube app on your Android device and search for "Offline Videos".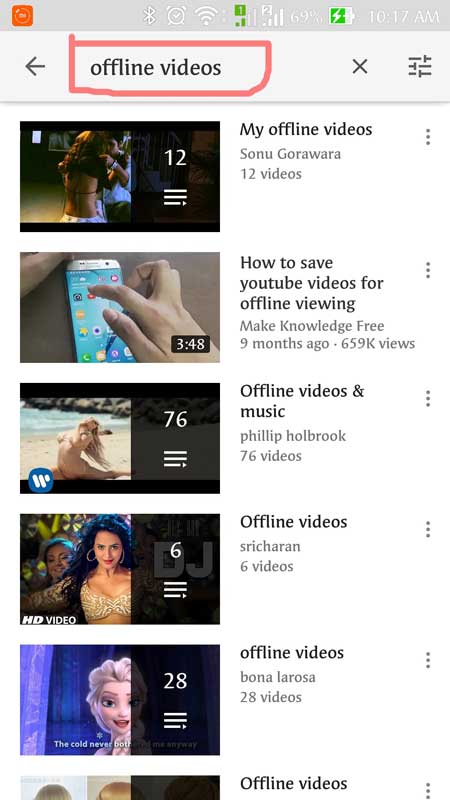 Step 2: Click and open any videos that are eligible for downloading.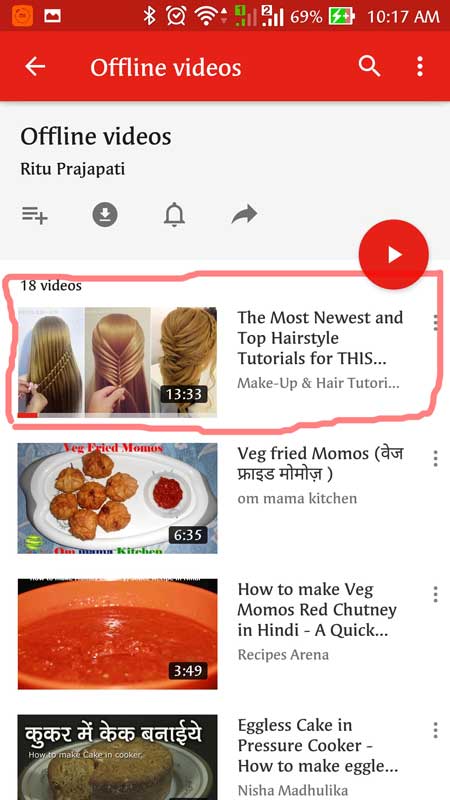 Step 3: Click on the "Save Icon" below the video Title.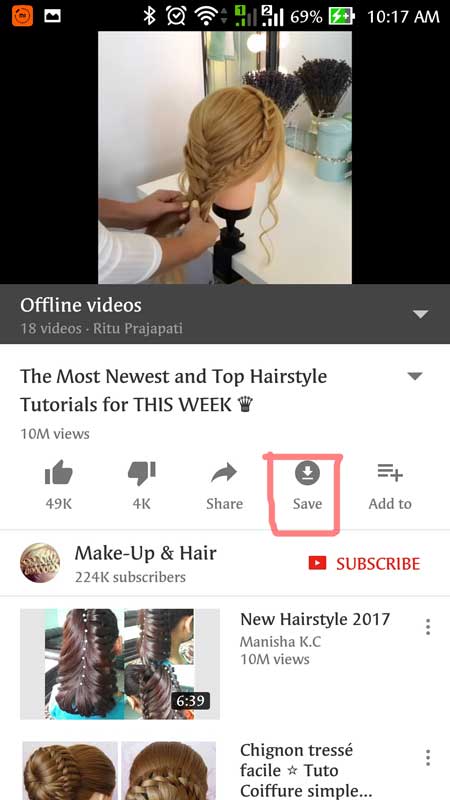 Step 4: Select the video quality and press Ok.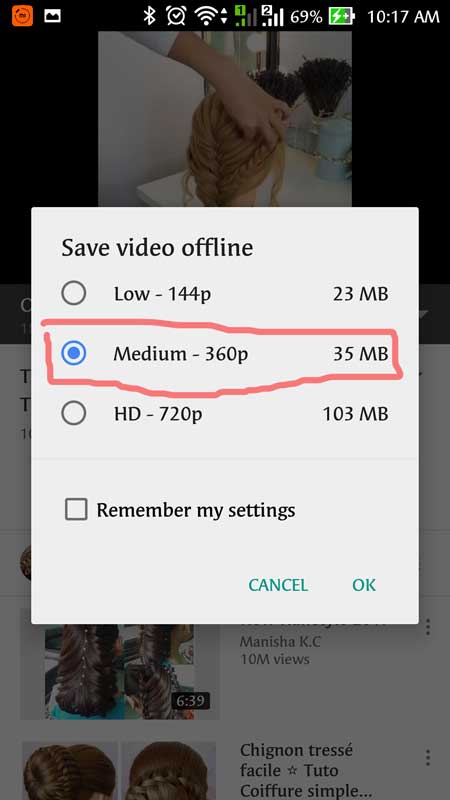 Now click on the account icon on your YouTube App and will find your downloaded videos in the "Offline Videos" area. You can watch these offline videos anytime without any internet connection.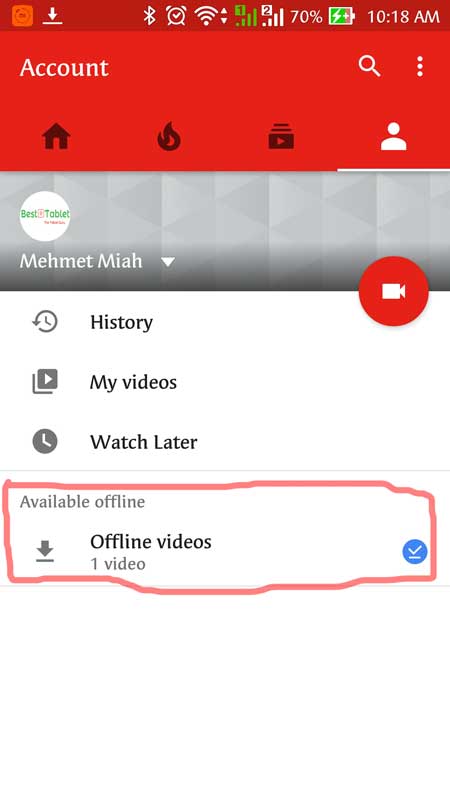 As I said before, you can download only few videos using the newly added video saving option. So what about other videos that are not available for offline saving.
You can download these video (any videos from YouTube you want) using some 3rd party app. There are several YouTube video downloader apps available for free. You need to download any of those app and install on your Android device. Open the app and browse YouTube using the app to download any video.
Best YouTube Video Downloader Apps for Android
All of these apps comes with almost same functionality to download videos from YouTube.
(Note: None of these apps available at Google Play Store. Because YouTube Terms and Conditions not allowed to download videos using any 3rd Party App. So you need to download any of the following apps from their official website or a 3rd party website.)
Best YouTube Video Downloader Apps
VidMate

The VidMate is one of the most popular and widely used Android App to download YouTube Videos from smartphone or tablet. With the user-friendly navigation and interface, this is also one of my favorite YouTube Video Downloader app. The lightweight and fast loading app can download any videos from YouTube faster with slow internet connection. The VidMate comes with built-in YouTube browsing option to search and download videos. You can select the video resolution/quality while downloading. There is also a built-in web browser available to browse any video streaming websites and download videos. To download videos using VidMate, you need to download the APK file from their official website. Install it and open it. You will see the YouTube in the home and open the YouTube. Search for any videos and play it then click the download icon to download that video. There is a built-in video player available with this app to play downloaded videos. You can also select the location (Device or Micro SD Card) where the downloaded videos will save. Download  VidMate from Here.
TubeMate
The TubeMate is another widely used and popular YouTube Video downloader app that also comes with the simple and user-friendly interface. Using the app, you can download HD quality videos from YouTube. The app also ensures maximum download speed with slow internet connection. The most attractive feature is, the app can use multiple internet connections to download videos quickly. TubeMate also supports background downloading option and you can see the progress in the notification area. You can pause or resume download anytime. Like the VidMate, this app also not available at Google Play Store. You can download and install it from their official website or partner websites. Download TubeMate from Here.
KeepVid

Android Recently, the KeepVid Android gets huge popularity as one of the fastest YouTube Video Downloader App. You can download videos in various formats using the app with various video resolution. The app can automatically convert videos files into MP3 Music file while downloading. The batch download option also available to download and control multiple files at a time. The built-in web browser also available to download videos from other video sharing sites. And the built-in search option allows to search and download the latest movies, videos or music from various sources. Get the KeepVid from Here.
Final Thoughts
People always love to watch videos or movies on their Android smartphone and tablet. And YouTube is the biggest source of videos and movies, but it always not possible to stream videos online. So we need to download videos and hope these methods and YouTube Video Downloader app will help you to do this easily.
Have something to ask? Please ask in comments or contact us.
Follow us on Facebook, Google Plus and Twitter.
Author Bio:
Hi, I'm Fakharuddin Manik, Android lover boy from Dhaka, Bangladesh. I'm the founder and editor of TechManik.com. I'm also a blogger and affiliate marketer and loves to write anything about Android, Apps, Blogging, Affiliate Marketing, and Technology. You can follow me on Facebook and Twitter.