Kindle voyage e-reader: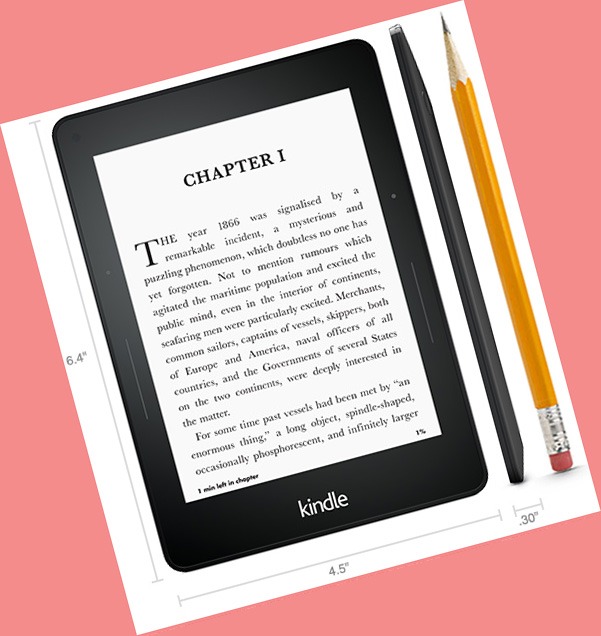 Kindle voyage e-reader is an electronic reader. It is a new product of Amazon Company. User can read books and novels etc. on it. It acts like a book.
It is next generation of kindle PaperWhite. First kindle device was kindle. Second kindle device was kindle PaperWhite. Third kindle device is now kindle voyage.
When it is available in stock?
It will be available in stock on 1 December, 2014.
Kindle voyage e-reader price:
The price of kindle voyage e-reader is $U199.0.
 Kindle voyage e-reader Technical specification:
Its screen size is 6 inch. It can connect with Wi-Fi and wi-fi+3G. Its battery life time is in weeks not in hours. It has thousands of books. 4GB is its storage. Free cloud storage is available for all amazon content. It's charging time is 3 hours. It can be charged from computer via USB cable. It supports pdf, txt, html, doc, docx, jpeg, gif, png and bmp etc. contents. Kindle voyage USB 2.0 and charge cable are packed in box. Its weight is 180g (6.3oz) with only Wi-Fi. And with Wi-Fi+3G, its weight is 188g (6.6oz). Its dimension is 6.4"X4.5"X0.30".
Kindle voyage e-reader new features:
Display:
It is 7.6mm thin. It is thinnest e-reader yet. User feels comfort to hold it. He can also continue study for long period. It has high resolution than kindle PaperWhite. Its resolution is 300 ppi. It shows crispy text.
New way to turn page:
It is like a book. So, user needs to turn page. To turn page, PagePress sensor is used. With PagePress, user can turn page without lifting finger. When needs to turn page, presses on bezel. A silent haptic response is received in the form of feedback. Page can also be turned by using swipe or tap on screen.
Adaptive and ideal front light:
Kindle voyage e-reader uses sensor to detect light of environment. Ideal brightness is automatically adjusted. User can also adjust brightness himself.
New reimagined look:
It has new look and feel. It has magnesium back. Micro-etching is used by flash-front. It diffuses light to eliminate screen glare.
Kindle voyage e-reader reads like a book: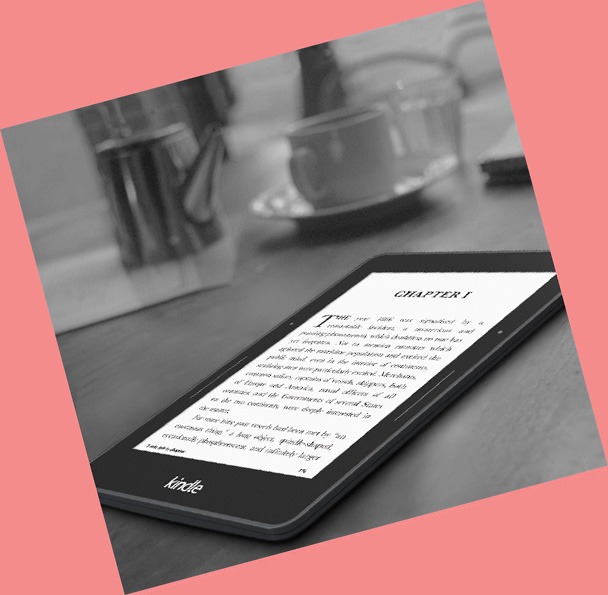 We can add margin notes.  We edit and delete them. We can export those notes in computer. We can share highlighted portion and important quotes on social media like Facebook etc. We can also share them on Goodreads. We can also see highlighted passages by other kindle reader.
Without Distractions:
We can read book with no interruption. Interruption may be email alert or push notification.
Kindle voyage goes beyond a book:
Kindle voyage e-reader has its own library. We can share kindle books with family. To search word wise, it provides more challenging books. Kindle voyage e-reader automatically detects difficult words. It also tells the simple and short meaning of difficult words. It does not disturb user attention.
When we tap on a word; it brings up a simple card with definition and synonyms. We can adjust number of hints with simple slider.
Get information about book:
We can get information about book before reading. Information may be author name edition etc.
Kindle voyage e-reader library:
It consists of library of thousand books.
Kindle voyage e-reader in-line footnotes:
It provides complete information about footnotes by simple tap.
Share books on Goodreads:
Goodreads is largest online community book. We can share books on Goodreads. We can see, what our friends are reading. We can rate books that we read. We can purchase books from Goodreads.
Translate selected passages:
We can select one paragraph. We can change in to any other language. Bing translator is used for translation. Translation may be in Japanese, Spanish and other.
Massive Collection & Lowest Prices:
We can purchase more than 1 million books at $4.99 or less. More than 2 million books price is at $9.99 or less.
Kindle Unlimited:
We can read books from over 7, 00,000 titles with kindle unlimited. We should try free unlimited kindle for 30 days.
We can borrow book from public library. Kindle also provides fast Wi-Fi and free wireless delivery. We can also lend books to other kindle or kindle apps users. The duration of lending books is up to 14 days.
Free sample books:
We can also download sample of books free. We can download these sample before buying.
Exclusive Origami Cover: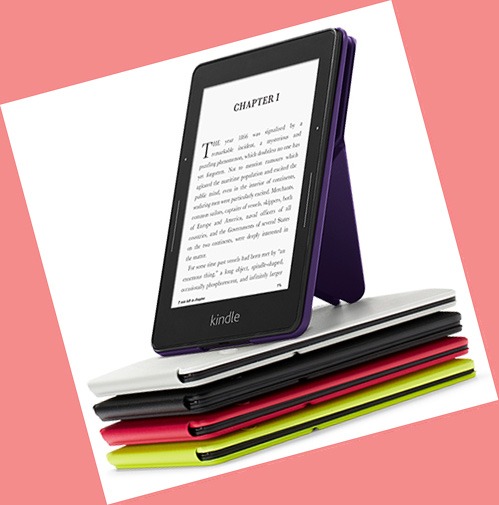 There is no need to hold it in hand using this cover. It presents portrait orientation. We can enjoy books hand-free. This cover is magnetized. It protects your Kindle voyage e-reader.
We can read books in our favorite languages. Kindle voyage e-reader supports Japanese, Spanish, Korean, Cyrillic, Latin and Greek languages.
To read more detail visit : http://www.amazon.com/High-Resolution-Display-Adaptive-PagePress-Sensors/dp/B00IOY8XWQ