G.Skill Trident Z Extreme DDR4-4000MHz and Ripjaws for Intel Skylake-S
Whenever we discuss about Memory Kit The G.Skill is on the Top of The Edge. G.Skill is on Top of the Companies which make High performance Memory kit (RAM) or other SOC.G.Skill announced
The two fastest DDR4 Memory available from G.Skill ,that is Trident Z and Ripjaws V .These DDR4 memory kit are performance run into air-cooled at an incredible clocked @4000Mhz speed. This special Trident Z edition memory kit aimed for serious overclocker. These memory kit are specifically designed for 6th Gen Intel Core Processor and Z170 motherboard. G.Skill updates its classic Ripjaws family performance with Ripjwas V memory kit with new color, new specification and new design.
G.Skill Trident Z Extreme DDR4 Memory

G.Skill Trident Z made with highest-end Samsung IC memory chips and validate and testing  on the ASRock Z170 OC Formula motherboard, a single-piece design allows heat dissipation from heatspreader to cooling fin. Trident Z DDR4 memory module can simply overclocked by using XMP 2.0 profile. DDR4 Memory kits are continous breaks the records and limits, with Dynamically faster clocking speed and Double of its bandwidth as compare to DDR3 Memory kit.The new Z170 series motherboard is highly engineering for providing highly optimized path between the processor and DIMM socket which is enable the incredible memory performance or unlock the limits of clocking speed.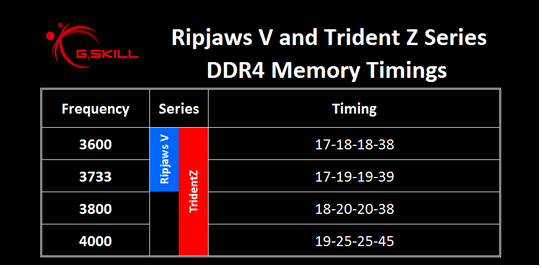 G.Skill Ripjaws V with new Specification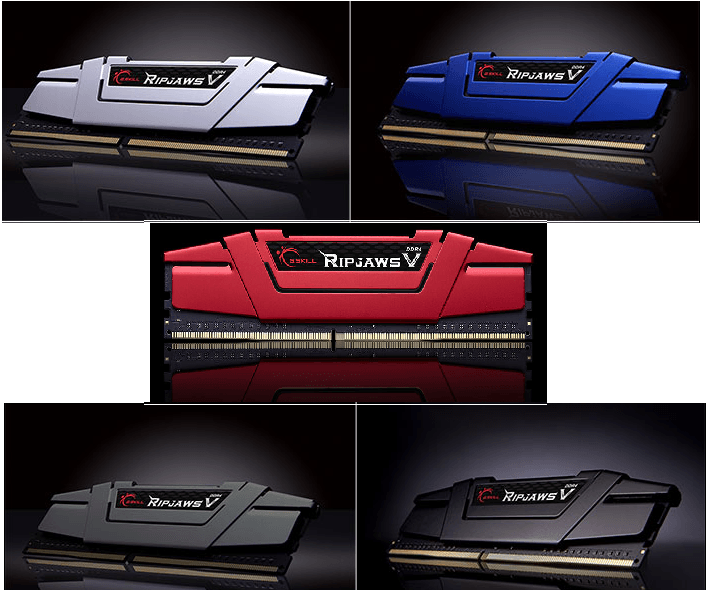 G.Skill Ripjaws V is an gaming style  with new heat spreader design concept.This will be available in five color variant Blazing Red, Steel Blue, Radiant Silver, Gunmetal Gray and Classic Black. Ripjaws V series DDR4 memory comes with various configuration and capacity.According to G.Skill, the high density 16GB module is built with highly selected Samsung IC memory chips.All high performance memory kit are XMP 2.0 ready. Ripjaws and Trident Z modules run different voltage standard Trident Z  runs higher DDR4 standard 1.35 volts-1.4, but this will be available only 2x4GB form and in other hand Ripjaws run on diffierent volts according to clocking speed 1.2v-1.35v.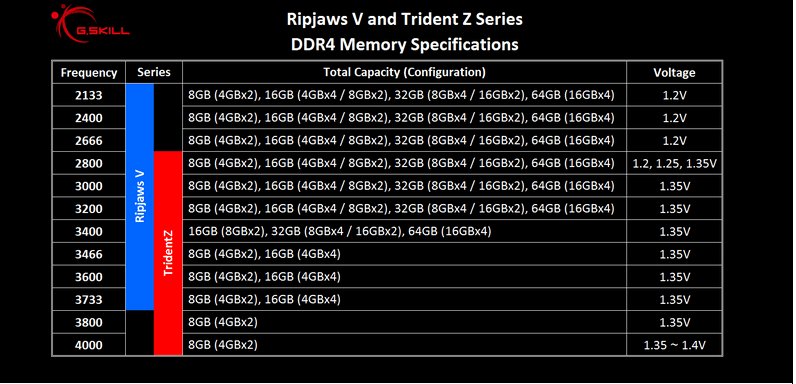 Source : G.Skill
Have something to add ?? share it in comments .
Follow us on Facebook, Google Plus and Twitter.