Intel Compute Stick STCK1A32WFC Bay Trail-T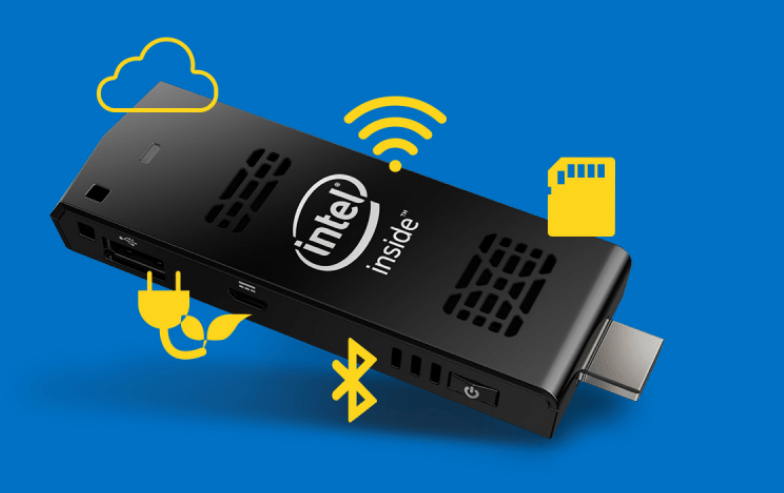 All new Computer Stick introduced by Intel , Intel PPSTCK1A32WFC this established new standard for computer stick that transform display into functional computer.The success of ultra computer and ultra computing  is to provide small and power efficient platform.Intel computer stick is use as plug and play because its comes with pre-installed operating system.
Intel announced the Computer Stick at CES and last month, Google also introduced its Chromebit ,The Chromebit dongle has almost all of the internal components of Google's browser-based PCs or Laptops packed into a stick and Chromebit is full packed with Google functionality but it look like as a candy bar.The Chromebit, that is made by Asus, includes 2GB of RAM, supported by Rockchips 3288 processor and 16GB of device storage. Chromebit supports Bluetooth 4.0, a Smart Ready controller and an ARM Mali 760 quad-core GPU.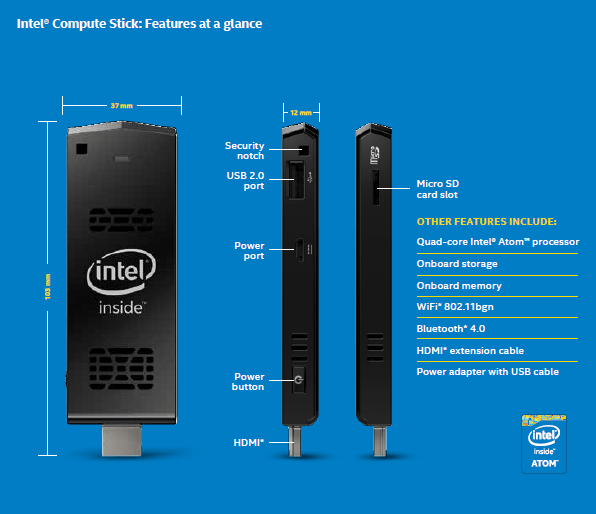 In Intel Compact Stick comes Intel Atom Z3735F (4C/4T x 1.33 GHz, 22nm, 2MB L2 Cache memory )  with 2GB DDR3L @1333 MHz. and Intel HD Graphics gives better performance over Multimedia application.Coming to the storage of Intel Computer Stick comes with Samsung 32 GB eMMC ( Samsung MBG4GC 32 GB eMMC ). Intel Atom Z3735F processor supports Intel Visualization Technology (Intel VT-x). Due to Bay Trail : multi-core SoC family it give high-performance , tri-gate 3-D 22nm quad-core SoC consume low-power.
In Intel has provide large amount of connectivity capability like Wireless Connectivity (Integrated 802.11bng Wireless Connection), One USB 2.0, Bluetooth v4.0 , Micro SD card slot. Intel also provide Intel HD Audio via  HDMI ,Supporting multichannel digital audio.
Intel Computer Stick is fully optimized computer stick that allow to give maximum performance of Quad-Core Atom Processor for Multimedia, Office Tools (Spreadsheets, Presentation and other one). Intel Computer Stick comes in two different variant First one is Windows based and another one is Linux based both stick has same processor but different memory module (windows : 2GB soldered ,single channel, DDR3L memory ) (Linux : 1GB soldered , single channel, DDR3L memory).
Price range of Intel PPSTCK1A32WFC is USD 150
Have something to add to this story ? Share it in the comments.
 Follow us on Facebook, Google Plus and Twitter.