The New Kali 2.0 codename as Kali Sana, is an open-source penetration testing platform having pre-installed hundreds of Hacking ,Reverse Engineering, Forensics and Penetration Testing tools. Kali 2.0 was redesigned user interface over its previous version which is based on KDE. Kali Linux 2.0 redesigned for streamline work experience using Gnome interface.
New Features In Kali 2.0
Fast Boot
Runs on latest Linux Kernel 4.0.
Use Gnome 3 interface.
Updated tools.
Support desktop notification
Support Ruby 2.0 for Metasploit (for faster Experience )
Built in sreencasting tool (desktop recorder or screen recorder).
support variety of desktop environment.
Improve hardware compatibility.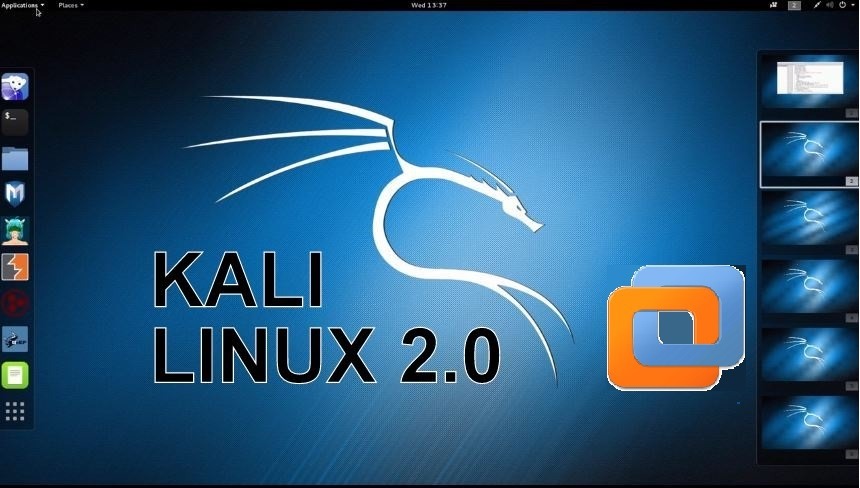 Step-by-Step Guide to Install Kali 2.0 Linux in VMware workstation 11
Let's start how to install Kali without any pre-knowledge and without any problem. We are just taking out few simple steps for installation .First you'll need a compatible Computer Hardware. Kali support i386, amd64, ARM architecture . Both i386  (32-bit ) and amd64 (64-bit) .Installation are same in almost all cases but in ARM it is little bit different for 32-bit than 64-bit because it  is a low configured Hardware. But at this time we install latest Gnome flavor kali 2.0  in VMware.
If you want to install Kali 2.0 in Dual Boot configuration you must follow my previous tutorial Dual-Boot kali with windows
We will install Kali Linux 2.0 in VMware workstation 11, Download Kali Linux from its official website. Now no need to burn ISO to DVD or prepare a USB as the installation medium or another option is by using network installation, only need kali iso..
Kali Installation Pre-Request
Minimum 15GB free space in C: Drive.
At lest Dual-Core (either intel or AMD) with minimum 1GB of RAM.
VMware Player or workstation.
Some Patience .
Internet connection .
for more understandable we make video for this
https://www.youtube.com/watch?v=m6rK3MQMRiU
Have something to add or stuck somewhere?? Please share/ask in comments.
Follow us on Facebook, Google Plus and Twitter.