Hello Friends
THRILL an new and awesome application for Android and iphone users to meet with new friends. We are thankful to Thrill community for giving us the opportunity to host a Giveaway .
Thrill Works on the concept He Applies She Decides . Thrill Application is the first application of this kind, which is only for the Indian users.
And we provide a Giveaway contest to win an access code so that you will gain immediate access to the app. As i know, no one is here who want to wait for it.
From where to download Thrill :
 Features of THRILL-

He Applies.

She Decides
1.A fresh, safe take on meeting amazing new people in India
In India every one loves to meet new friends of opposite sex . Thrill does it exactly and work on the principle HE APPLIES . SHE DECIDES . When you apply(If you are male) ,your request will kept to hold untill it is approved by a female User.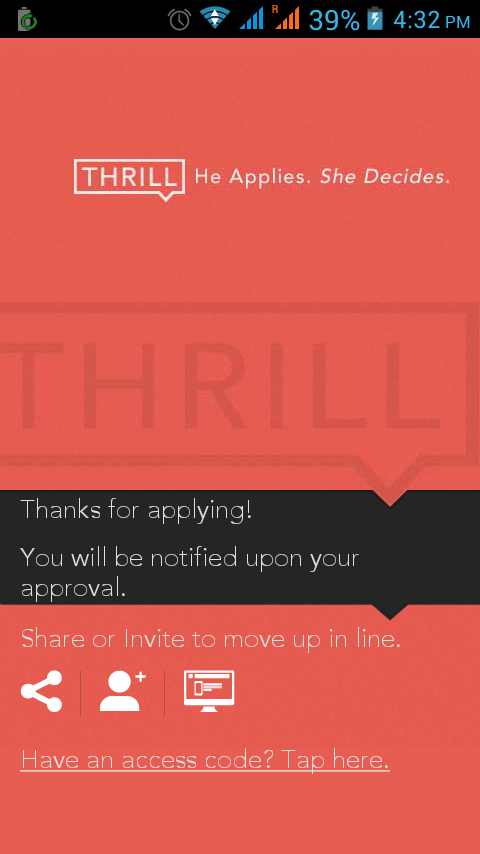 2. If you will win the Thrill give away
If you will win the Thrill give away by Buffercode , i will give you the access code which is special opportunity to the male users to get immediate access to the app.
3. It give the Loyal users
Thrill application have no fake uers . User can sign up only through social media accounts. Which is one of the best feature of this app. As user may tired from the websites which have lot of fake users. So if you can THRILL ,show here 😉 …….
Buffercod
e Exclusive Giveaway
We are giving away VIP access code to 2 users.
You can gain immediate access to the app through the code .
Kuldeep Dabodiya is our lucky winner
Giveaway Rules
The give away will last for 12 hrs.
At the end of the giveaway 2 winners are selected which will be announced here and winners will be notified by email.
Winner can download Thrill App from anywhere.
The code is not for selling ,if found your may disapprove.

Make sure you use a valid email. You will be notified using this email if you win.

You can make as many entries as you like. The more the entries more the chances of winning.

Just drop a comment about what you think about THRILL. Best of luck!