Truth behind Digital India Initiative: Violation of Net Neutrality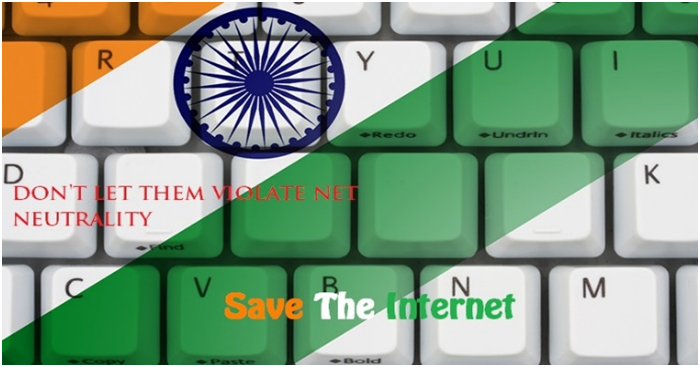 On his visit to US, Prime Minister managed to talk to 500 CEOs of the world leading companies in last couple of days. No doubt he is putting all of his efforts for the development of India. And his dream to build a digital Nation is seems to become true now.
Prime Minister visited Silicon Valley and had meetings with the Pirates of Silicon Valley. During the meeting with Google's CEO Sundar Pichai, CEO announced that Google would be partnering with Indian Railways to provide free Wi-Fi at 500 stations. Also the Microsoft's CEO announced the partnership with Indian Government to provide low cost Internet in 5, 00,000 villages.
Microsoft also announced the data centre in India, Also the Prime Minister invited Apple's CEO to make in India.
On the visit of Prime minister to the Town Hall of Facebook HQ, Mark said  "Early on in our history when things weren't really going well – we had hit a tough patch and a lot of people wanted to buy Facebook – I went and I met with Steve Jobs and he said that to reconnect with what I believed was the mission of the company, I should go visit this temple in India that he had gone too early in the evolution of Apple, when he was thinking about what he wanted his vision of the future to be."
Mark is already putting his efforts to start Internet.org in India, It would be good that the people will be able to access some websites without any internet connection. And this visit of PM sounds to bring a new digital revolution in India.
But the people are not aware of the truth behind the support of Facebook and other companies for India. The Internet.org project of Facebook opposes the Net Neutrality.
Now you must be thinking what this Net Neutrality means? This is a principle that Internet Service Providers and government will treat all the data on internet equally, no discrimination on the basis of users, content on the website, platform, application, type of attached equipment, or mode of communication can be done.
Now clearly our government will be promoting the services of the leading companies. And the Internet.org initiative of Facebook will also violate the Net Neutrality, as it is based on the principle that every person could access a set of websites without any data charges.
The DoT panel on Net Neutrality opposed the projects like Internet.org. In India Facebook has tied up with Reliance Communications to provide free internet access to some sites. The DoT panel has stated that Internet.org is violating the Net Neutrality principle and favouring Facebook's own services over its rivals.
This violation of Net Neutrality will have an adverse effect on other websites, especially which doesn't have the setup like Facebook. Also it must be noticed that at on hand our PM is encouraging the new Start-ups and on the other hand he is supporting the projects like Internet.org which will create difficulty for the new comers to grow.
This new initiative of our PM will make his dream of digital India true, but it extremely violates the Net Neutrality principle. It is like someone snatches the Internet freedom from you.
It is just the beginning if these type of projects will further be supported by you then the day is not far when you will scream "OH! No, what we have done?"
At the end I would Appeal to you all "Save the Internet." Stop supporting the projects which violate the Net Neutrality.
Have something to add Truth behind Digital India Initiative ? Please add in comments.
Follow us on Facebook, Google Plus and Twitter to get more Tech News and reviews.