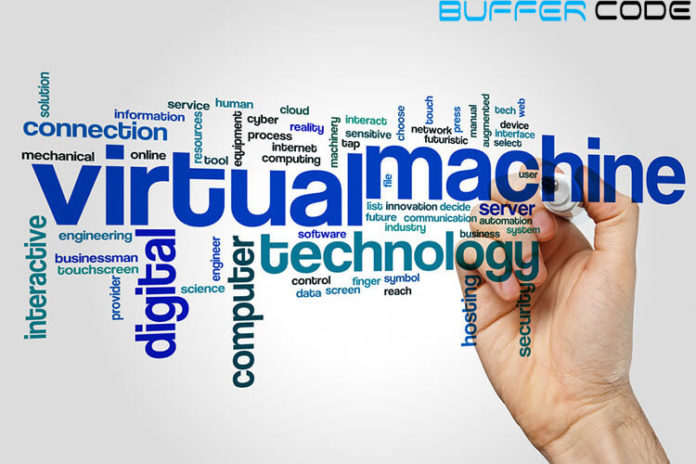 Virtual Machine
Virtual machines are machines or systems that do not physically exist but gives the feel of working on a physical machine or system. To create a virtual machine, you require a software or technology that can create a virtual environment.
Our advanced technologies used in malware analysis or threat analysis works on virtual machines only. It is easy and fast to restore a virtual machine instead of a physical system or server.
Our next generation is going to work in a totally virtual environment. This is because the cloud technology is being extensively utilized but currently only a few people and organizations have this technology.  Rest of the organizations are either switching to cloud technology or planning to switch. But to set and support everything in a virtual environment will take time.
However, for a single virtual machine or any R&D, a virtual environment can be created using software or application in a system itself even without buying a cloud server. Today there is much software that provides virtualization.
For that purpose, we have VMware Workstation, ESXi Server or Host, Virtual Box, VMware Player and few other software which are popular and supported by all kind of Operating systems.
Virtualization in Mac System
Before buying an Apple MacBook, people generally ask "Do Mac supports Virtualization?"
Friends, I am not sponsoring Mac here, I just showed how people react when one need to come out of their comfort zone to do a new thing or try something new which they have not tried earlier. Above question is not from a person who is going to buy Mac. If any techie person plans to buy a Mac he will keep these things in his mind.
And as a result, he will be doubtful to go for Mac or not?
Will Mac support all the applications used in windows?
Will Mac support VM workstation or not? If not, then how we will use VM?
The answer to the last question is, yes Mac supports Virtualization by using virtual box. Also, Virtual machines that we have created in VMware workstation or exported from ESXi server can be used in Mac system. Even if we can create our new virtual machine as per our requirement.
The second answer is also yes, it supports most of the application that we need to use.
The first answer totally depends on one's wish.
How to use Virtual Box in Mac?
Create new virtual machine using ISO file:
The steps to use a Virtual box in your mac system to start using Virtual Machine.
Go to the Virtual Box official site https://www.virtualbox.org/
Go to the Download section.
Click on OS X Host to start the download. Once you click on OS X Host it will start downloading the file for Mac System.
It will download a package like "VirtualBox.xxx.OSX.dmg" here xxx is version of Virtual box package.
Now you need to double click on the downloaded .dmg package. It starts extracting the package.
Now it will prompt to start the installation by clicking on VirtualBox.pkg
It will then start verifying the package and prompt with another window to install any software or application either in mac or in windows system. Like accepting the term and condition, providing the storage location etc.
Once the installation is done, you can find the Virtual Box application in Application or you can search using spotlight search.
Virtual box also provides the same kind of GUI and functionality seen in VMware workstation.
Create a new virtual machine by clicking on new, it will prompt a window to select the operating system to be installed.
After selecting the operating system, it will ask for few basic settings like RAM and ROM allocation means how much RAM and storage to assign for new virtual machine.
From the Disk menu select VMDK file because most of the software that provides virtualization support VMDK format of disk.
Now finish the basic setting and click on Start, it will prompt for another window. Here a  black window appears with the text that no bootable medium found, it's because we have not provided the bootable medium path.
Now click on disk icon in right side lower corner and select "Choose Disk Image". It will give a browse option to select the ISO file.
After providing the bootable medium path, it won't start booting because machine needs a restart to apply the changes.
To restart the machine just close the open window it will then prompt to power off the machine, select that option.
Now, start the machine again, it will start booting like normal physical machine or system. Rest of the steps are basic and similar to any other window installation.Import an existing Virtual machine: 
To import an existing virtual machine, you should have the virtual machine in OVF format.
Now click open virtual box and go to file > import new appliance, it will prompt a window providing an option to browse the existing Virtual machine files.
Select the OVF file and click on Open.
Now click on next and then import.
It will start copying existing virtual machine files into its local database [Virtual Box database where it is storing all the virtual machine].
Now the imported Virtual machine gets started as it was exported.
Enjoy the virtualization in Mac as well. I agree mac have limitation but like the Windows it also supports all type technology. You won't find all application with the same name but it has alternative and for that you have to do a little bit work around. Need help anytime, we are always here for you guys!