Apple's iPad Pro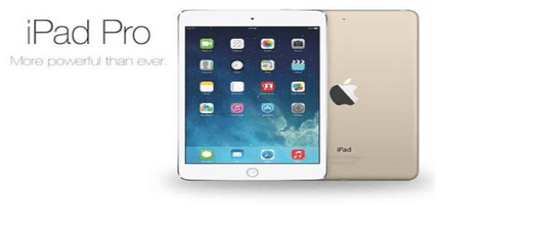 After month of rumour and speculation iPad Pro is here, like the rumors suggested, iPad Pro is a larger version of the traditional iPad. Apple's iPad Pro has also offered a uniquely simple yet immersive experience. iPad is introduced with a canvas designed for your biggest ideas. A 12.9 inch Retina display, 5.6 million pixels, delivers up to 1.8 times the CPU performance because of A9X processor and double the graphic performance of iPad Air 2. One will feel a better experience with every touch. iOS 9 are the most advanced and secure mobile operating system in the world. iPad pro has a slim, sleek, light and stylish design with weight of 1.57 pounds and 6.9 mm thin. Graphics in the iPad Pro have doubled in terms of performance.
PRICE:
32GB- $799 (Wi-Fi)
128GB- $949 (Wi-Fi)
128GB-$1079 (Wi-Fi+Cellular)
It has iSight and FaceTime HD Cameras i.e, two awsome cameras which will make your every moment so very special and memorable.
iSight camera: the iSight camera on iPad pro has an excellent and advanced feature to capture beautiful images and video. One can shoot time-lapse and slow-motion videos in 720p HD and can notice more details than ever before.
Front facing HD camera: it also has an improve sensor which is firstly with the larger display and secondly can make video calls which will not affect to that height to the quality if happening in dim light. The picture will not look fade.
As we come to the security part i.e, the password, then it presents the iPad Pro with touch-id technology to turn your fingerprint into an unforgettable password. So the personal data can be kept safe with just a touch.
The keyboard part of new iPad Pro is also new. It is a full size keyboard and fully portable, one just has to attach the smart keyboard and start typing. Three new circles along the side of the device act as a new smart connector to attach the keyboard to the iPad Pro.
In the audio world of iPad Pro, it has four speaker audio which will make you feel great at listening at every turn. Audio experience is as big as its display, it automatically adjusts with the different frequencies.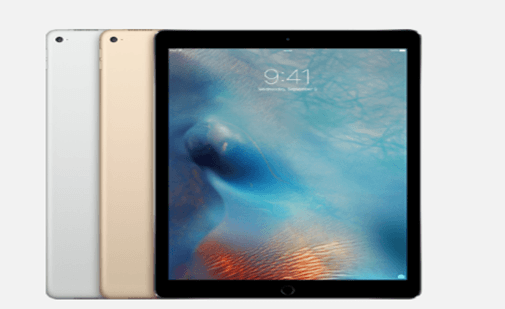 Have something to add on Apple's iPad Pro ? Please add in comments.
Follow us on Facebook, Google Plus and Twitter to get more Tech News and reviews.