GIGABYTE introduced two new high-end motherboards for AMD FX processor with up-to-date features. The new GIGABYTE motherboard is belongs to premium gaming lineup with latest storage I/O technology like USB 3.1 peripherals and M.2 (solid state drive) and advanced overclocking capabilities.
The new GIGABYTE 990FX and 970-Gaming motherboard supports newly ultra high ending processor from AMD with new platforms featuring. GIGABYTE 970-Gaming motherboard is based on AMD 970 + SB950 chipset, which is not top-ending for FX processors. This motherboard has PCI Express slots, are supports both AMD CrossFire and NVIDIA SLI support.
The GIGABYTE 990FX-Gaming motherboard supports all AMD3+ FX products includes  HIgh-ending AMD FX-9590 and FX-9370 with 220W TDP. The 990FX-Gaming motherboard comes with 10-phase VRM featuring solid-state chokes and 10K capacitors.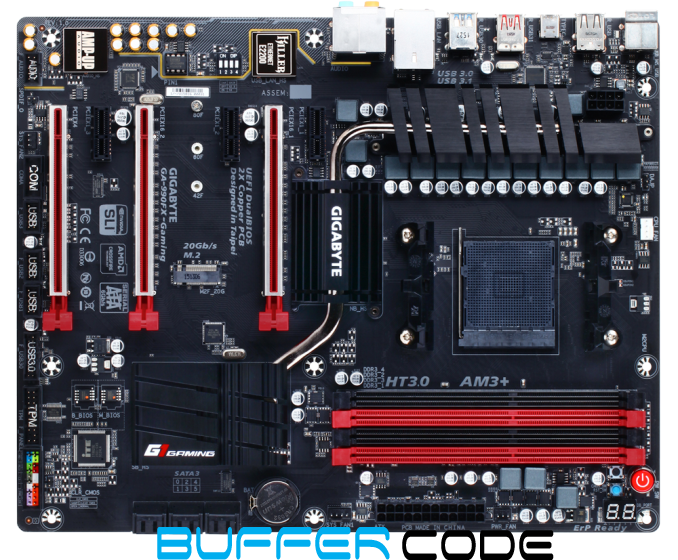 GIGABYTE 970-Gaming designed for more mainstream AMD3+based processor with up to 125W TDP. like Phenom II, Athlon II and Sempron 100-series chipset. This Asus motherboard upgraded with 5-phase power delivery, and that will not support AMD FX-9000 chips.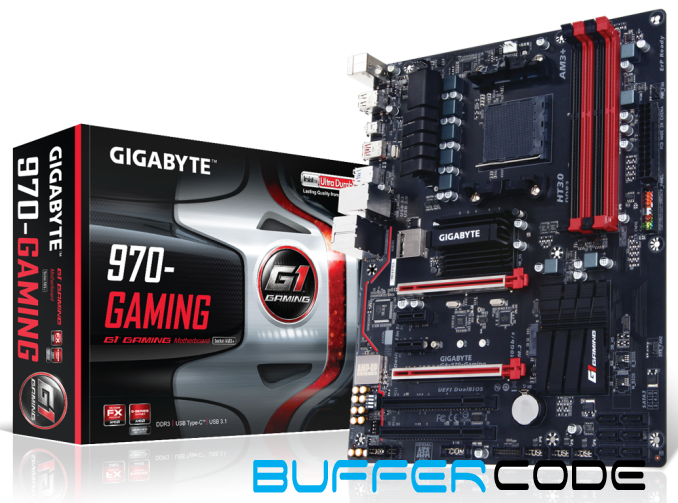 Both Gaming motherboard support with VRM (voltage-regulator module) custom power controller for ultra-smooth and ultra-clean power delivery to CPU all time with four memory slots with support up to 32GB of DDR3 clocked at 2133MHz memory.
GIGABYTE 990FX-Gaming features two PCIe 2.0×16 slot, supports 2-way NVIDIA SLI as well as AMD CrossFireX mulit-GPU technology, in additional the motherboard has one PCIe 2.0 x16 soliot running in x4 mode for an additional PCIe devices and three PCIe x1 slots.
AMD 900 Series Chipsets
970 + SB950
990X + SB950
990FX + SB950

(990FX- Gaming)

Code Name
RX980
RD980
RD990
Released
Q2 2011
Q2 2011
Q2 2011
CrossFire
x16 + x16,
x8 + x8 + x8 + x8
x8 + x8
x16 + x4
x8 + x8 + x8 + x4
SLI
x8 + x8
x8 + x8
x16 + x16,
x16 + x8 + x8,
x8 + x8 + x8 + x8
HyperTransport (MHz)
2400
2600
2600
PCI Lanes
26 PCIe 2.0 lanes
26 PCIe 2.0 lanes
42 PCIe 2.0 lanes
SATA 6Gb/s
6
6
6
RAID
0, 1, 5, 10
0, 1, 5, 10
0, 1, 5, 10
NB TDP
13.6W
14W
19.6W
USB 2.0
14
14
14
SB950 TDP
6W
6W
6W
Both GIGABYTE 990FX-Gaming and 970-Gaming motherboard features one M.2 slot  operating in PCIe2.0 x2 (GIGABYTE 970-Gaming) or PCIe 2.0 x4 (GIGABYTE 990FX-Gaming), provides 10Gb/s and 20Gb/s bandwidth to PCIe M.2 SSDs. These motherboard fully supports NVMe protocol and compatible with both AHCI as well as NVMe SSDs.
As like other motherboard manufacture it features six SATA 6Gb/s ports with RAID (0, 1, 5, 10 and JBOD ) support as well as M.2 SSD (PCI 2.0 x4) that supports data-rate upto 20GB/s.
The motherboard use ASMedia's ASM1142 USB 3.1 USB controller that enable next level  USB 3.1type-C and one USB 3.1 type -A connector placed on rear panel, four USB 3.0 ports (VIA VL805 controller) and supports 14 USB 2.0 ports (AMD's SB950 I/O controller).
The both motherboard comes with Rivet Network's Killer E2201 Gigabit Ethernet controller, that gaming network traffic proritization (reduce latency , during heavy downloading and uploading).
Have something to add on GIGABYTE 990FX-Gaming and 970-Gaming motherboard? Please add in comments.
Follow us on Facebook, Google Plus and Twitter to get more Tech News and reviews.