Are you a Hike user? Do you love Hike Stickers? Then there is a good news for you. Hike has announced its new app Hike Direct that will allow you to continue your chat even without internet connection.
Yes Hike is going to launch its new app Hike Direct, it will let you chat, share big media files, transfer data and files of any type without the data connection. Hike Direct Messaging App will use the WiFi Direct technology that will let the app to establish the peer to peer network connection between devices.

Range of the app will be approx. 100 meters, it means once you are connected with the other phone you can use Hike Direct as other messaging app within the radius of 100 meters without any data connection. You can also transfer big files at greater speed. The Company claims the speed of the transfer will be up to 40mbps.
The CEO of Hike, Kavin Mittal said "Today is the day we completely redefine messaging. Hike Direct has been built on breakthrough technology that adds a whole new dimension to messaging enabling hikers to chat and share files with their friends without the internet and without incurring any data charges. One can get speeds up to 40 Mbit/sec when chatting and sharing files through hike direct. Data or no data, hike will always work. It's incredibly powerful."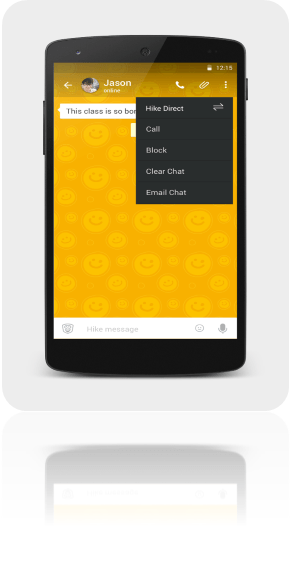 To use this service all you need to do is open a chat with a friend of yours who is within the radius of 100 meters and choose Hike Direct and it is all done. Hike will automatically do the rest, it will pair up your device with your friend's device and let you chat and share files.
You can update your Hike messenger to avail this free and exciting service of Hike, the update is available free on the Google Play Store.
For Windows and iOS users there is a bad news, you have to wait for about a year to enjoy this service.
Have something to add on Hike Direct? Please add in comments.
Follow us on Facebook, Google Plus and Twitter to get more Tech News and reviews.