iOS 9 Passcode Bypass: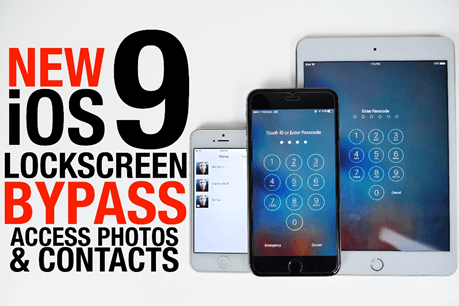 Is setting up the passcode on your iPhone the first thing you did after updating to iOS 9?
But it is very easy for anyone to access your personal photos and contacts while your screen is locked even without knowing the passcode in just 30 seconds or less.
A new simpler way is founded by a hacker to bypass the passcode of all the devices which run on iOS 9.
Steps for the bypass:
You have to start with entering the wrong passcode four times.
When entering the wrong passcode 5th time just leave the last digit and now long press the Home button to call Siri and immediately enter that last digit left.
Ask Siri for the Time.
Click on the Clock Appears to enter the Clock App.
Now click on + sign on the right corner of the screen to add a new clock.
Type any random letters in the choose city field and select the text by double tapping.
Now click on Share, and choose share by message.
Type any random digits in the 'To' field of message and then return.
Double tap the digits entered that will take you to contacts app.
Click on create contact, now choose add photo.
And now you can access all the photos on the device, while your screen is still locked by the passcode.
This trick works on all the devices working on iOS 9.
The good thing about the Bug is that it is not a remote flaw, only the person who has access to your phone can bypass the passcode of your device.
How to prevent the Hack
It is very easy to prevent someone from accessing your personal data by this trick. All you need to do is to disable Siri on the lock screen, by this you will only be able to use Siri after unlocking your device by your passcode or fingerprint.
Have something to add IOS 9 Passcode Bypass ? Please add in comments.
Follow us on Facebook, Google Plus and Twitter to get more Tech News and reviews.