Are you searching for a good Laptop ? Take a look on LENOVO IDEAPAD Z51-70
LENOVO IDEAPAD Z51-70 DESIGN
The Z51-70 stars in two colors i.e.; white and black. A 1920X1080 15.6 inch non-touch display and weighing about 5 pounds. The size of Z-51 is a tiny bit bigger than Dell Inspirion 15 5000.  A big vent between the VGA and AC jack on the left. A pack of HD display and JBL speakers, Comfortable keyboard with numpad. A well spaced layout and full 10 key numpad makes the typing more easy in Lenovo Z-51. In addition, responds accurately to clicks, multi-touch gestures such as two finger scrolling and pinch-to-zoom.
LENOVO IDEAPAD Z51-70  BATTERY LIFE
The battery life is almost acceptable of LENOVO IDEAPAD Z51-70 . This lasts upto 4 hours and 2 minutes which is undoubtedly less than Dell Inspiron 15 1500 by 45 minutes. It has better performance than a typical budget machine. Powered by the latest processors by intel and AMD discrete graphics.
LENOVO IDEAPAD Z51-70  EXTENSIVE  STORAGE
With up to 1 TB hybrid storage with an integrated 8GB SSD Cache, the Lenovo Z-51 has plenty of room for your files, photos, documents and media. The Z-51 combines great sound and visuals with serious storage and horsepower to create a portable multimedia powerhouse.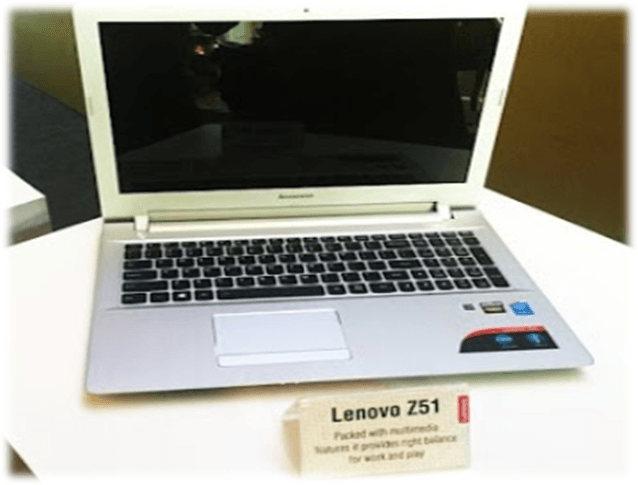 LENOVO Z51-70
……….. (PRODUCT DESCRIPTION) ……….
CAMERA
720P HD
RAM
8 GB (80K60021)
OPERATING SYSTEM
Windows 8.1
PROCESSOR
Intel Core i7-5500U
SPEAKERS- 2X1.5W
2X1.5W
AUDIO PORT
1/8" stereo
SCREEN SIZE
15.6"
Best PRICE
Rs 53,350/-
TOUCH FUNCTION
No
COLOR
black and white
PORTS AND SLOTS
1. Audio port: headphone and microphone combo jack
2. USB: 2 USB 3.0, 1 DC-in with USB 2.0
Have something to add on LENOVO IDEAPAD Z51-70 ?? Share it in comments .
Follow us on Facebook, Google Plus and Twitter .