Ad Block Plus has been the most popular ad-blocking software from last some years which has more than 50 million user per month worldwide, and now here is a new launch of ABP – The Ad block browser. Ad Block has launched its browser for iOS.
This launch clearly shows the company was hankering to launch its browser before the launch of the next version of iOS. The next version of iOS will introduce the content blocking feature that will make the developers to easily develop the ad blocking software that ultimately will give the tough competition to the Ad Block.
Ad block has already built a great business on desktop and now the company is looking over the business on smaller devices. Here company has taken a smart step, rather than making the ad blocker for smartphones they have designed a browser pre-installed with the ad blocker, as the installation of an extension to the browser will be a perplexing process.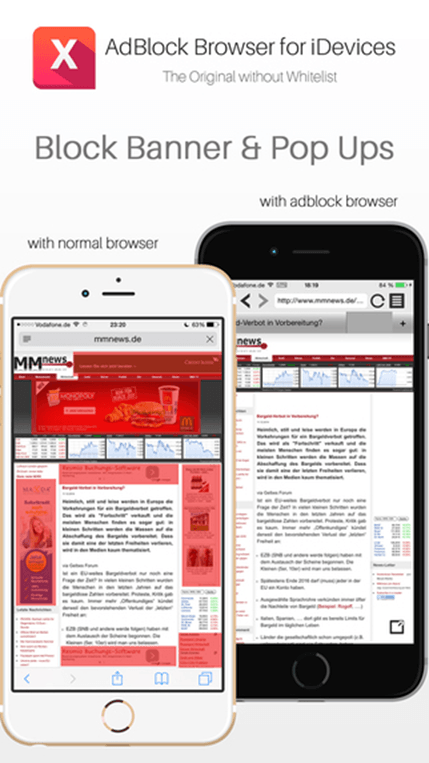 The broad fleck is that mobile data can cost your pocket heavily, sites with ads are not only disturbing the users by halting the page but also costing them money.
"Adblock Plus is very excited and grateful to have our app, Adblock Browser for Android, available in the Google Play Store," noted Till Faida, co-founder of Adblock Plus.
ABP claims that Ad Block browser offers you the more safer, private and efficient surfing. Also it also promote lessened battery drain along with the diminished risk of malware infections.
There are many other controls in the browser like you can add the additional filter to customize the content that is to be blocked. And change the default setting to block ads.
The company is also promoting an "intuitive tab functionality" and easier bookmarking, they are also claiming that the scrolling is smoother in the browser. Also an analysis of the browser on the iOS confirms a little enhancement in speed in opening the webpage vs the built-in safari browser and also without any pop-up. The only thing they have to look upon the crashing of the browser that was found during the test.
See Also:The Data You Keep In Your Mobile Is Not Secure: Pre-Installed Spywares in Smartphones
The company is also convincing Google to allow its ad blocking browser for android in the play store.
Have something to add on The Ad block browser ? Please add in comments.
 Follow us on Facebook, Google Plus and Twitter to get more Tech and Security News.