Howdy friends, Today i hear that brand YU that is tide up with micromax is going to provide android update
for Micromax YU Yureka it means
Micromax YU Yureka will receive Lollipop 5.0 soon!
that make a huge rumor in Indian phone market.This is very exiting news for those who have this phone and waiting for android lollipop update.Micromax's online Partner YU has unveiled an Android Lollipop update coming to its Yureka handset on its Official Facebook Page.
YU unveiled this news by posting an dot puzzle image that have 26 dots that indicate it will be coming 26th of this month.There are many funny and exciting comment that are on official facebook page of YU where they said in puzzle form (Note: This is users guess only).
Check out this one if you are interested in hacking "How to install Kali Linux?"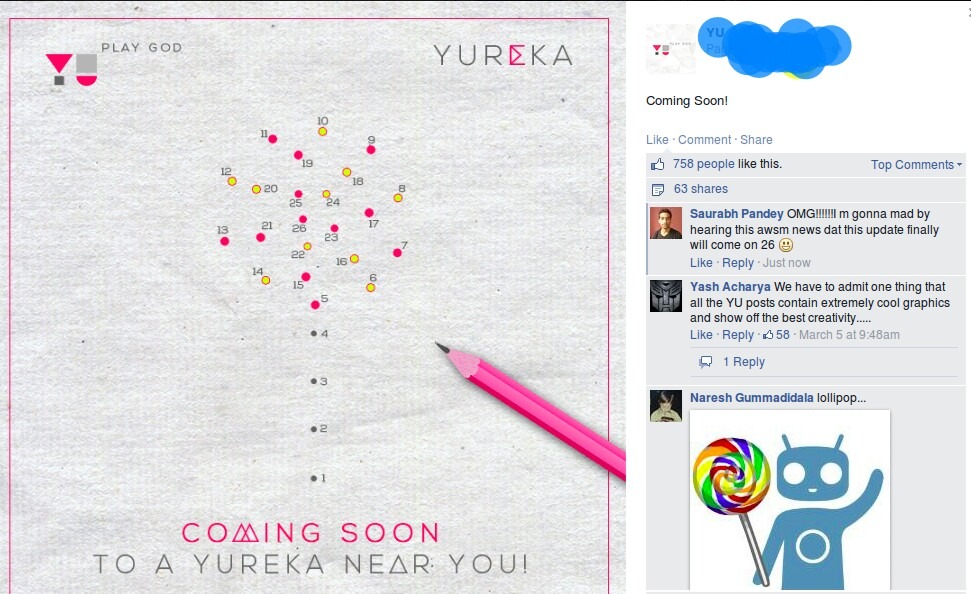 At an Interview Rahul Sharma, Co-Founder, Micromax and Yu Televentures, talked some bits about the new phone and features in the Yu Televentures line-up and also confirmed that it is codenamed Project Caesar. He also said that the handset would likely to launch in April and that will run on the 'Android L' or Lollipop version of Cyanogen OS, implying a slightly customized version of CM12S.
Phone Specification From Official YU Website
Key Features
 Benchmarks Socre
Thanks for giving your valuable time for reading this post.I think you enjoyed it. Post your views on this phone in comments.
SignUp for getting more updates Buffercode Sign Up