Hey friends, nowadays days we are addicted of social networking and messaging on which we can share text , pictures, videos, and other stuffs . So there are many application which works for many platforms like android, IOS , windows etc. It create a environment of a competitive war of largest user base.
Who will win?
There is a famous dialogue "OLD IS GOLD" and we all knows that  whatsapp is oldest in market of messaging and whatsapp  give the idea of free communication over messaging using data pack. It comes with the revolution in IT market of messaging and stuff shearing and after that there is lots of other competitor come in market like viber, bbm, hike,line,wechat ,facebook massager etc. It create a close war among them and insist me to write article about "Viber Vs Whatsapp Vs BBM Vs Massanger: A Close War".
 500 million user: First dream Milestone of These apps
As every competitor want to attain a huge user database so there first milestone is to achieve 500 million user base.
In recent  viber expects to hit 500 million user base in end of the year where whatsapp already archived it in April of this year. While Line , BBM(Blackberry Messenger), Facebook messenger also have huge database.
Viber Launches Public chats in India : A new kind of social experience
Viber , famous for free messaging and calls has launched public chats for Indian users .
Why only for Indian users??
Viber and most of the social network has large no of user data from India . Viber has highest number of users from India , 33 millian out of 460 million users . So highest users == highest priority , that's why viber launches it only for Indian users.
What does this public chat do??
Public chat is a kind of live discussion between celebrates and other personalities that users can follow. So through this feature users can share their , communicate and make a conversation with celebrates.
Comparison between Viber Vs Whatsapp Vs BBM Vs Messenger
Note: All the data for comparison is taken from "Google Play Store"
Viber:
Description
With Viber, everyone in the world can connect. Freely. More than 400 million Viber users text, make HD-quality phone and video calls, and send photo and video messages worldwide over Wifi or 3G – for free. Viber Out can be used to make calls to non-Viber mobile and landline numbers at low rates. Viber is available for many smartphones and platforms.Viber is compatible with and optimized for Android tablets! Use Viber on your tablet and phone simultaneously.
On Viber, your phone number is your ID. The app syncs with your mobile contact list, automatically detecting which of your contacts have Viber.• Text with your friends
• Make free phone and video calls with HD sound quality
• Share photos, video messages, voice messages, locations, stickers and emoticons
• Groups with up to 100 participants
• Download stickers from the Sticker Market, to make messaging fun!
• Ability to sort and reorder stickers
• Push notifications guarantee that you never miss a message or call, even when Viber is off
• Integration with native contact list for calls and messages
• Support for the Viber Desktop application on Windows and Mac
Localized to: Arabic, Catalan, Chinese (SP), Chinese (TR), Croatian, Czech, Danish, Dutch, Finnish, French, German, Greek, Hebrew, Hindi, Hungarian, Indonesian, Italian, Japanese, Korean, Malay, Norwegian, Polish, Portuguese (BR), Portuguese (PT), Romanian, Russian, Slovak, Spanish, Swedish, Tagalog, Thai, Turkish, Ukrainian and Vietnamese
Viber is completely free with no advertising.
We value your privacy.Follow us for updates and news:
Facebook –
http://facebook.com/viber
Twitter –
http://twitter.com/viber
(*) Network data charges may apply
Whatsapp: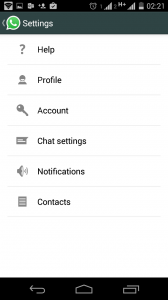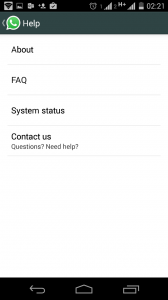 Description
WhatsApp Messenger is a smartphone messenger available for Android and other smartphones. WhatsApp uses your 3G or WiFi (when available) to message with friends and family. Switch from SMS to WhatsApp to send and receive messages, pictures, audio notes, and video messages. First year FREE! ($0.99 USD/year after)WHY USE WHATSAPP:
★ NO HIDDEN COST: Once you and your friends download the application, you can use it to chat as much as you want. Send a million messages a day to your friends for free! WhatsApp uses your Internet connection: 3G/EDGE or Wi-Fi when available.
★ MULTIMEDIA: Send Video, Images, and Voice notes to your friends and contacts.
★ GROUP CHAT: Enjoy group conversations with your contacts.
★ NO INTERNATIONAL CHARGES: Just like there is no added cost to send an international email, there is no cost to send WhatsApp messages internationally. Chat with your friends all over the world as long as they have WhatsApp Messenger installed and avoid those pesky international SMS costs.
★ SAY NO TO PINS AND USERNAMES: Why even bother having to remember yet another PIN or username? WhatsApp works with your phone number, just like SMS would, and integrates flawlessly with your existing phone address book.
★ NO NEED TO LOG IN/OUT: No more confusion about getting logged off from another computer or device. With push notifications WhatsApp is ALWAYS ON and ALWAYS CONNECTED.
★ NO NEED TO ADD BUDDIES: Your Address Book is used to automatically connect you with your contacts. Your contacts who already have WhatsApp Messenger will be automatically displayed.
★ OFFLINE MESSAGES: Even if you miss your push notifications or turn off your phone, WhatsApp will save your messages offline until you retrieve them during the next application use.
★ AND MUCH MORE: Share location, Exchange contacts, Custom wallpaper, Custom notification sounds, Landscape mode, Precise message time stamps, Email chat history, Broadcast messages and MMS to many contacts at once and much much more!
———————————————————
We're always excited to hear from you! If you have any feedback, questions, or concerns, please email us at:
or follow us on twitter:
http://twitter.com/WhatsApp
@WhatsApp
———————————————————
When roaming, additional carrier data charges may apply. Please contact your carrier for details.
BBM: SEE ALSO:BBM BlackBerry now features timer just like Snapchat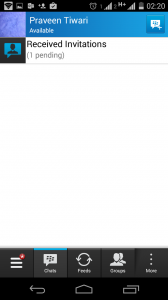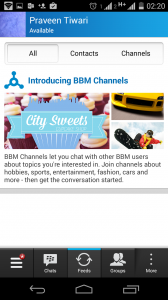 Description
BBM brings you together in the moment with friends and family through instant chats, voice calls, picture sharing, voice notes and more. Download the official version of BBM from BlackBerry now.Chat with friends on Android, BlackBerry and iPhone:
• BBM is always on and always connected – no app to open
• Know when messages have been delivered (D's) and read (R's)
• Say 'hello' with BBM Voice – free voice calling between BBM Contacts*
• Quickly share photos, files, documents, voice notes and more
• Allow contacts to view your location live on a map, powered by Glympse*
• See when contacts are responding to your message
• Emoticons for every mood and emotion let you express yourself
With BBM, what you share is yours to control:
• Timed Messages:  Set how long contacts have access to messages and pictures shared in a chat before it disappears from the screen.**
• Message Retraction: 'Retract' a message to remove it from your BBM chat.*
• You choose how to share your information – BBM uses PINs instead of phone numbers or email addresses so that it's more private, and you always control who can contact you
• You choose your contacts – 2-way opt-in means you have control over who is able to message you
Chat and Share with many at once:
• Groups – BBM groups help you share pictures, lists, and appointments with group members. You can even be in a group with people who aren't part of your own BBM contact list.
• Multi-person chats – Invite multiple contacts to have a chat together.
• Broadcast messages – Send a message to multiple BBM contacts at one time.
BBM Channels: Join conversations happening now about the things you love.
• Create a new channel to share your thoughts, ideas and passions.
• Subscribe to an existing BBM channel to join chats with others who share your interests.
Create your own BBM profile:
• Post a profile picture using images, pictures or even animated pictures (GIFs).
• Update your status to let people know what you're up to or how you feel
Download BBM for free today.
Data charges may apply
While these features are designed to remove the message or picture the recipient's BBM chat view, they do not prevent recipients from capturing an image of the content by taking a screenshot or using an image capture device.  Retracting a message after it has been read by the recipient will remove the message from the BBM chat view, but will not affect copies of the message that the recipient may have made prior to the message being retracted.
*Note features not available on Android smartphones running 2.3.x (Gingerbread)
Facebook Messanger:SEE ALSO:Facebook verification page has bug found by team BUffercode

Description
Instantly reach the people in your life—for free. Messenger is just like texting, but you don't have to pay for every message (it works with your data plan).Not just for Facebook friends: Message people in your phone book and just enter a phone number to add a new contact.
Group chats: Create groups for the people you message most. Name them, set group photos and keep them all in one place.
Photos and videos: Shoot videos and snap selfies or other photos right from the app and send them with one tap.
Chat heads: Keep the conversation going while you use other apps.
Free calls: Talk as long as you want, even with people in other countries. (Calls are free over Wi-Fi. Otherwise, standard data charges apply.)
Even more ways to message:
Bring your conversations to life with stickers.
Preview your gallery photos and videos without leaving the conversation–then choose the perfect ones to send.
Record voice messages when you have more to say.
NOTE: Friends Now Vote for your favorite one among Viber Vs Whatsapp Vs BBM Vs Messenger by commenting on this post.