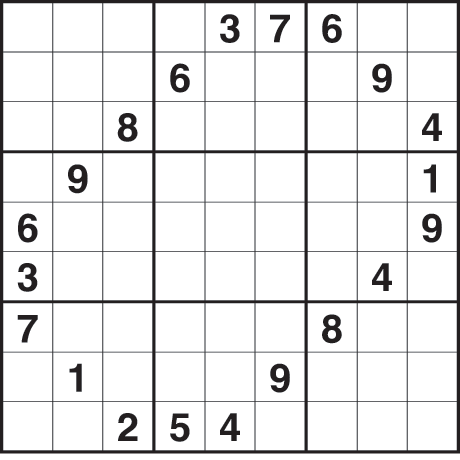 As one of my favorite games of all time, I have always had a soft spot in my heart for Sudoku. But, I'll be honest, carrying around pen and paper everywhere is a hassle and it makes me less inclined to play, even though I love the game as much as I do. So, after a conversation with a friend that turned me in the direction of apps, I decided to do a bit of research. During my internet adventures, I found a website with a list of the best 10 Sudoku game apps and decided to see if this claim was really true. Well, not only did I find some really great apps (I'll link the site below so you can check it out), I found a couple Sudoku games worth playing.
I have decided to include my favorite three apps below so you can hopefully get just as much enjoyment out of them as I have. I can't imagine starting my day without a calming game of Sudoku, and that's exactly what these apps provide.
Sudoku.com – Rating: 4.6, Downloads: 10M
Sudoku.com is on this list because there is an auto-check feature to help you locate your mistakes in-game. Plus, if you make a mistake you can simply erase your answer and change it to something else. This is really helpful for beginners as well as people like me who are likely to make mistakes when playing. You can also participate in daily challenges that will help regularly exercise your brain, and you can win fun trophies and in-game prizes for completing these challenges. And, if you need to make comments or write down your thoughts, there is a pencil mode that lets you take notes on the game as if it were a notepad.
I will say that if you struggle with your eyesight, the numbers may appear a bit small. This might cause you to accidentally make a mistake or press the wrong button. If you're specifically looking for an app with bigger numbers and boards, this may not be the one for you.
Pros: Auto-check feature, daily challenges, on-screen notepad
Cons: Small text
Overall: The text is a bit small but you can get really hands-on to improve your gameplay
Sudoku – Rating: 4.7, Downloads: 100K
Sudoku is great for beginners because you have the ability to start at a lower level and work your way up to the harder levels while learning how to play the game. There are four different levels to choose from, so if you have more experience, you can try a harder level for more of a challenge. There are also hints to give you the Sudoku solutions and an explanation of why that answer is correct. I find this super helpful because I tend to get frustrated easily if I don't understand my mistake.
You need to press the number tiles pretty precisely or you risk accidentally press the wrong tile, especially if you're a bit fat-fingered like me. I don't personally find this to be the end-all-be-all, but you might want to keep this in mind all the same.
Pros: Multiple difficulty levels, game hints with explanations
Cons: It's pretty easy to accidentally press the wrong tile.
Overall: You can learn Sudoku from the beginning and perfect your game, just make sure you're careful when selecting tiles
Sudoku (by genina.com) – Rating: 4.4, Downloads: 10M
Sudoku by genina.com has weekly competitions to help you improve your skills and challenge your brain. You can play Sudoku with other online Sudoku players from all over the world who also love the game, which is really fun. Plus, you can make all the mistakes you want because the eraser feature lets you delete any mistakes or remove unwanted notes. I really like this because it means my screen isn't littered with my past notes that aren't relevant anymore. You can also undo and redo moves so that if you discover your answer is wrong you can quickly change it.
It's pretty easy to accidentally press and open an ad while playing. This is frustrating, I won't lie, but you do have the unique option to choose the type of ads you receive. I wouldn't necessarily consider this a benefit, but it does make me marginally less annoyed those times when I do accidentally hit open.
Pros: Weekly competitions, erase your mistakes, undo and redo buttons
Cons: Pretty easy-to-open ads
Overall: There are loads of features to keep your competitive nature satisfied, just be careful not to accidentally tap an ad
Conclusion
These are my top 3 picks I believe if you're a sudoku player, you'll surely love. Just in case you want even more options (can't ever have enough of Sudoku, right?), I'll share the mentioned top 10 list.
I really can't tell you how much I've enjoyed putting the pen and paper away and playing one of my all-time favorite games right on my phone. These apps are simple, straightforward, and they come with tons of bonus features like helpful tips and hints. If you like Sudoku, you seriously need to check these out.
Have something to ask or want to add to the article? Please connect us using given link for Facebook and mail.
Have something to ask? Please contact us on social network.
Follow us on Facebook, Google Plus and Twitter.