ANDROID MARSHMALLOW
On SEPTEMBER 29,Google disclosed  its new version of mobile operating system i.e ANDROID 6.0 MARSHMALLOW, where viewer also got the view of its all new NEXUS 5X and NEXUS 6P.
With all new factor and enhancement, Android  6.0 Marshmallow is ready to excite the user.Nexus 5,Nexus 6,Nexus 7,Nexus 9 and Nexus player user – from Monday,October 5  start thumping the update button.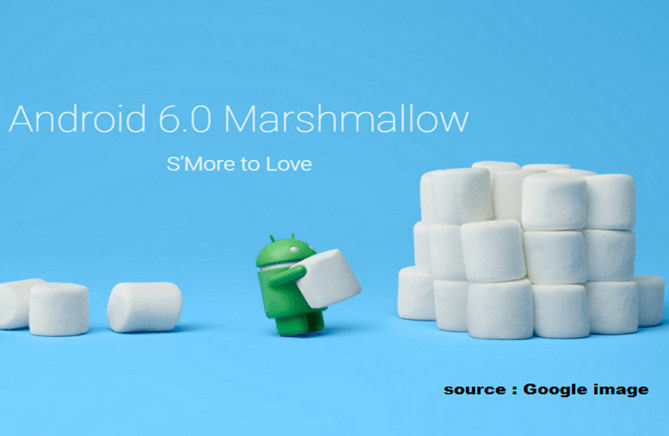 TOP FEATURE IN ANDROID MARSHMALLOW :
BETTER GOOGLE WALLET

– Google is releasing more secured wallet.In ANDROID 6.0 Google is introducing finger print scanner which could be used for secure payment.Google will approach credit card companies to reboot Google wallet if security will be in place.


APPLICATION PERMISSION

–  Now an user can control the access of app i.e all the time accessing of app will be no more.What you want to share and when,will be your decision in ANDROID 6.0 .


GOOGLE NOW

–  GOOGLE NOW on Single Tap will you information in the bit.With a simple tap cards with appropriate data will appear.


FINGERPRINT SCANNER

–  Google introducing fingerprint scanner for the first time,for more security and easy accessibility of phone.It will not only use for unlocking the phone but also for shopping from play store or in real life.


BATTERY

–  When an user will not use its device than device automatically will go in sleep state and no battery life will decrease.No battery will drain from hardly used apps.


IMPROVED CUT,COPY AND PASTE

–  In previous versions of android on selecting a text confusing option appear at the top of screen but in ANDROID 6.0 on selecting a text proper option of cut,copy and paste will appear.


AUTO BACKUP AND RESTORE DATA –

The interesting feature is AUTO BACKUP AND RESTORING OF DATA.Partnership of the feature with google drive will automatically backup data.Data will get restore on again installing the app in case of losing the device or deleting the app




Have something to add What's New In ANDROID MARSHMALLOW ? Please add in comments.
Follow us on Facebook, Google Plus and Twitter to get more Tech News and reviews.