If you remember, in the end of last year every one was impressed from the announcement by Microsoft "Microsoft loves Linux". Microsoft also added about development of ACS ( Azure based switch) based on Linux.




SEE ALSO: Kali Linux Rolling Edition updated with the latest patches
Waliking Cat, a well known Windows Hacker and computer expert discovered that latest Windows 10 may have a linux subsystem hidden inside.
According to his tweet on twitter he has found two mysterious files lxcore.sys and lxss.sys in the latest Windows 10 redstone build. It may be the part of Microsoft's project Astoria.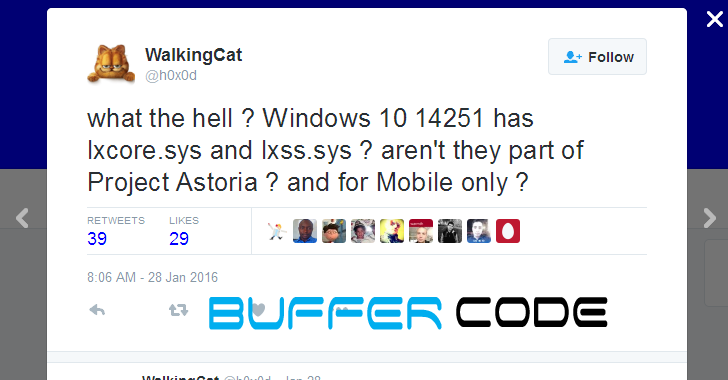 Project Astoria is Windows bridge for Android. It will enable you to build windows 10 applications by reusing your android code.
The naming convention of recently discovered file is very similar to naming convention of Project Astoria (ADss.sys). If you analyse it's file system you will find that in ADss.sys – AD refers to Android while in lxss.sys- lx refers to Linux. It simply means windows 10 will have access to linux subsystem.
What do you think ? Is it beneficial, if Microsoft plan to support linux application in windows 10?
Have something to add in Windows 10 may have hidden linux subsystem?? Please share in comments.
Follow us on Facebook, Google Plus and Twitter.