On the official blog of Google Chrome , Google unveils new chrome device named Chromebit that is based on a Chrome OS dongle which have most of the features and specifications of the Chromebook i.e. same features as in Chromebook. The Chromebit dongle has almost all of the internal components of Google's browser-based PCs or Laptops packed into a stick and Chromebit is full packed with Google functionality but it look like as a candy bar. The Chromebit, that is made by Asus, includes 2GB of RAM, supported by Rockchips 3288 processor and 16GB of device storage.
The device price expected to below $100 that can turn your TV into a Chrome PC they said on there official Google chrome blog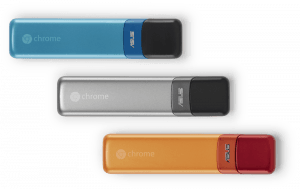 "This summer, ASUS will launch a new type of Chrome device: the Chromebit. Smaller than a candy bar, the Chromebit is a full computer that will be available for less than $100. By simply plugging this device into any display, you can turn it into a computer. It's the perfect upgrade for an existing desktop and will be really useful for schools and businesses.So whether you're looking for a smaller Chrome device that packs a big punch or a laptop that can do back bends, there's a Chromebook for you…and for everyone else, too."
"Asus actually really pulled off a marvel of engineering here, squeezing everything into this size," said Caesar Sengupta, VP of product management at Google, during a press event at the company's San Francisco office.
Chromebit features
Google's Chromebit also have an HDMI port,by which you can connect the device to an external display along with a USB port which can be also used as to connect power and connect peripherals like a keyboard, mouse etc.,Chromebit supports Bluetooth 4.0, a Smart Ready controller and an ARM Mali 760 quad-core GPU.
Google's Chromebit will be avalable in three variant color named Silver, Blue and Orange and it is expected that it will be released at the end of this year along with new Chromebook of Google.
Comment your feeds about Google Chromebit…………..
Follow us on Facebook, Google Plus and Twitter