The selfie addiction nowadays is getting out of control. People love to take selfies for sharing their pictures on the social network.
You can call it a selfie chopper or whatever you like but its name is Fotokite Phi . You can take more clear and quality aerial shots from this  chopper or you can call it copter. The inventors of Fotokite Phi named it "no-frills aerial camera," just according to it work, means you can take quality photos but you have to follow some limitations.
Fotokite Phi / Selfie Chopper Features
This quadcopter is so light (only 300 grams) and it doesn't include any camera. You have to attach your own GoPro camera to it. Second, this quadcopter does not depend on GPS, It simply works by recognition of tether tension as positioning guide, also your control of the tether when it comes to adjusting the device viewing angle.
The length of the tether pf the device is 26 feet which is enough to take a good aerial selfie. This amazing device is founded by Sergei Lupashin in Switzerland. This device is just amazing it does not need any GPS any smartphone to work with it simply works on the principle of Tension. And it is as easy as to fly a kite in the sky. You can use it anywhere in a room, in cave and where ever you go it sticks to you. You can capture your aerial shots while riding a bike, or riding on a sledge in the snow. You can control it by just twisting your wrist.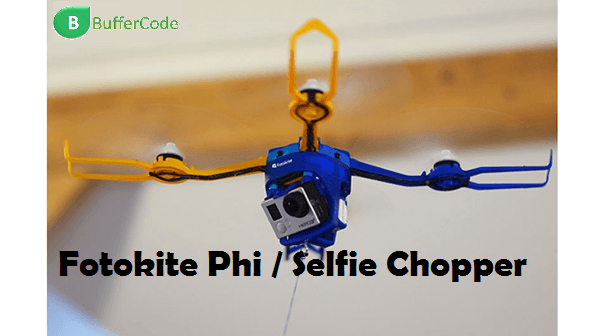 The only disappointment with this device is just its flight time. It can hardly fly upto 10 minutes. This is not a big problem in case you are taking your own selfies but it can be a serious problem for those who are taking it to a party.  Well we have to adjust with this only.
The price ranges from $400 to $1000(USD). But the Creator of this device expect the price $500. The device is available on preorder at lower prices on the company's IndieGogo campaign page. Delivery of the device is expected to occur in March 2016.
Have something to add on Fotokite Phi ?? Share it in comments .
Follow us on Facebook, Google Plus and Twitter.