Let's start PUBG streaming on facebook using the mobile phone. Yes, you read it correctly. Well, how many times you have seen this post "Guys, watch me playing PUBG live" on facebook groups or youtube? I know all PUBG player see this post daily so many times. And most of the viewers are pro player but still watching a noob playing live. And then they wish if they could show their gameplay to others and show them how to play. We are going to tell you that how you can play PUBG or any game live on facebook or youtube. So, no more watching others playing PUBG or any other game until you really want to watch them.
Things required for PUBG live streaming:
Don't worry you do not need a complex setup. You just need two things one is a mobile which is compatible with PUBG and another is internet connection not high speed, Average speed is okay. If you have high-speed internet then its good for you.
Now, you have mobile and internet connection so you can play PUBG but question is, how to play PUBG live on facebook or youtube?
Well, to come live on facebook or youtube there are many applications that can help you.
YouTube gaming
Twitch
OBS – Xsplit and more
But, all these applications provide good and easy support for PC only, instead of android or IOS.
So, there is another application Omlet Arcade that gives you a platform to go live on Facebook or youtube using your mobile.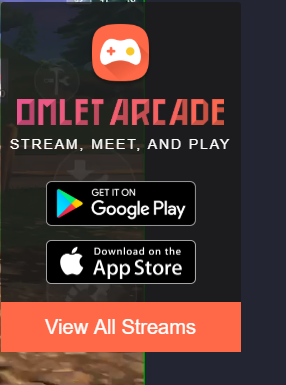 The purpose or vision of this application is to share anything with your followers or friends directly from your mobile phone. And the best thing is you can play any games live on facebook and youtube altogether.
How to play PUBG live on facebook and youtube?
Download omlet arcade application from play store or app store
Open omlet arcade, it will ask you to sign in if you have an existing account or if not create a new account. Also, you can play without creating an account, just enter a valid user ID.
For account creation, you have to complete email verification and password setting process so you can save your progress level.
Once ID is created or you are logged in then it will ask you to join any gaming community, please join whichever you like. These communities will help you to share your live gaming link on omlet arcade streaming platform.
Now, you have two option to set your live account on which you want to be live. First, go to settings and do the required steps. Second is, just press + button that is located in the bottom. Now you will see two option Go live and Post, select Go Live.
It will show you stream setting screen, click on facebook and it will prompt you to facebook login screen, please enter your facebook username and password.
Now, select youtube and it will prompt you to google login screen, please enter your youtube account username and password.
Once, you are done you can click on next. Here, it will prompt you to set your phone position to play games, will it be portrait or landscape? Select as per your game, for Clash of clan and PUBG it should be landscape and for clash royale, it should be portrait.
Click on done, and an update will be posted on your facebook group or profile which you have selected as stream platform.
But, broadcast is not yet started. For that, you have to select omlet arcade in your screen recording option and click on start broadcast.
Congratulations, now you are live on your account.
For step to step process for PUBG live streaming, please watch video till end.
If it helps you then please don't forget to like our video.
A subscribe will be treated like thanksgiving.
How omlet arcade works?
Once, you start broadcast in your mobile omlet arcade start capturing your phone screen so whatever is on your phone screen can be shown in the live stream. It just simply host your phone screen to a streaming platform that you selected and authorized it to do that by setting your accounts.
Note:
As we told you, omlet arcade will be hosting your phone screen to stream platform that you have selected, do be careful when you go live. Because any notifications, personal messages or anything that comes after starting broadcast will be shown to your followers. So be careful and keep privacy by muting all the notification or removing your wallpaper.