You can't easily caught captain cool when he is crying
Dhoni is really captain cool, he was smiling when playing with Rahane and even after lost of match. No one can easily catch him wit tears that's I am writting here "You can't easily caught captain cool when he is crying  ". Because he knows if MS DHONI will cry , Whole India will cry and he don't want to do so.
Here is his image in which he caught while crying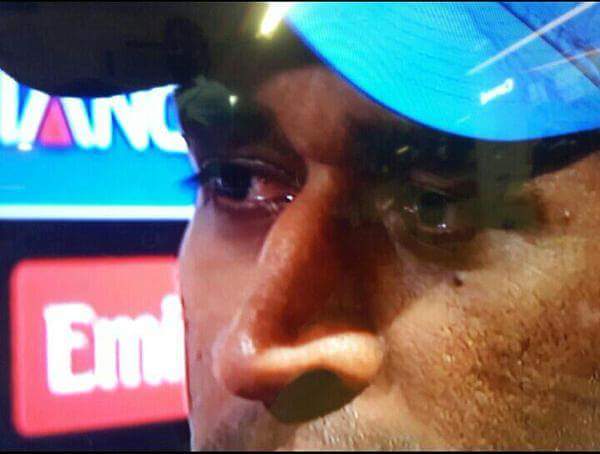 Here I upload Brave Inning of MS Dhoni   in Ind vs Aus Semifinal #CWC2015

Please stop behaving like loosers or there will be no difference in b/w you and Bangladesh or Pakistan . MS Dhoni is still the best captain ever. He is the one who even not saw his daughter for a month . He is just the amazing captain who fought for his country till the last hope but no one was there who gave him support. Don't you think it's a Brave Inning of MS Dhoni .
Here are few points  of match ( Ind vs Aus Semifinal #CWC2015 )
Yaa I know, it's a bitter truth to accept that now India is burnt out from cricket world cup 2015(CWC2015) by Australian's  . Australia beats Indian cricket team by the huge margin of 95 runs. But neither Dhoni nor Anushka Sharma  responsible for it.There are some facts of the match :
Rohit Sharma and Shikhar Dhawan Played well
No Doubt , Shikhar and Rohit gave India a good and strong start. Before start of 2nd inning of 2nd Semifinal of cricket world cup 2015 I thought ,if our opening batsman can manage more than 50 run of partnership ,we can manage a amazing win .  Shikhar's 45 runs off 41 balls was good with Rohit's 34 in 48 balls. But in this ton of pressure of worldcup and too many hopes plus a huge target to achieve , Shikhar played a bad but beautiful shot which was his wrong shot selection. Still he completes his work even performed more than expected .
Virat Kholi's Dismissal
Just after Dhawan, Virat Kohli : the fav man of Indian cricket team played unexpected shot and even irresponsible shot. He comes at number 3 , where a team needs a strong player who can manage the innings after the opening batsman goes to pavilion. But what he did?? He played like a irresponsible batsman. He comes like he is a hero and seriously it's like he want to show off in front Anushka Sharma .
Fuck off ….. :/
Rahaney's Wicket
It's just unexpected :/ By this catch Australia win that match. :/
He was our last hope with Captain MS Dhoni  , he was playing well and that was unbelievable out. Suddenly Aus takes unexpected review and one more wicket Gone. He was played like a mature batsman even mature than Virat
Aus was really Good
They was really played good cricket. From batting to bowling ,they was better than Indians.That's why they won the match.
And in the last who played better today won the match.