Friends we know that our memories are precious things in our life. Memories will always reminds us our previous goals and milestone.Today I would like to say "Memories are sweetest things in life, which can remind our delightful yesterday" that's why memories are important in life.When we remind our memories it makes always pleasant environment in our life.
"Memory is deceptive because it is colored by today's events." -Albert Einstein
This time social networking giant Facebook.Inc comes to surprise there billion of users by an exciting Facebook On This Day feature before that facebook comes with Year In Review feature. Facebook On This Day is a tool that will help you to remind your pleasant memories like Birthdays,wedding anniversary, engagement function and celebration with friends and family. Facebook On this day tool will automatically celebrate and remind your pleasant memories through your news feeds.This tool enables you to reminds night outs with friend and other funny stuffs with your loving one from past.From very long interval this feature was in testing phase but now it is ready to use and start rolling out globally .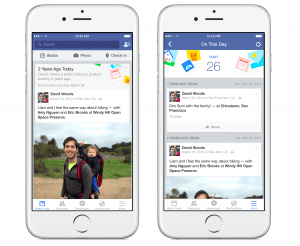 Facebook On this day tool will show users their posts from the current date in previous years, like photos from exactly one year ago, or status updates from four years ago. So you able to remind and see your previous memories. You can also delete particular post or you can remove entries of past date that you don't like to see again.
Facebook On This Day reminders not just reminds you wedding celebration but it also remind posts you have been tagged in by your friends and relatives.Now you are thinking there are many posts, In which I am tagged in and mine facebook wall will be full with this type of notification. But don't take tension my friend ,Facebook is not a naive in social networking and Facebook know how to manage these things. Facebook use Algorithm for On This Day tool that will only show you relevant and pleasant post only. Facebook On this day tool use an algorithm that will filter your Unpleasant memories like Break-Ups and Death etc.
As Facebook distribute this feature globally and if you not able use this feature, you have to wait for sometime.
Thanks for reading this post, Comment your views about "Facebook On This Day" features.
Follow us on Facebook, Google Plus and Twitter.