Apple will now support ad blocking. The new operating system iOS9 launching on Wednesday is dignified to change the interaction of users with the web on mobile and iPad. The ad blocking applications will be available on App store for safari browser. The ad blockers will not only block the ads and pop ups on the web pages but also other contents that slow down the web pages and consumes resources including tracking scripts, cookies, images and auto playing audio and videos.
Ad blocker has recently launched its Ad Block Plus browser, this will create a new competition in the market for the content blocking app developers. But this a browser not a content blocker. However, Ad Block will introduce an ad-blocking extension following iOS 9's debut.
Before the launch of iOS 9 number of companies and indie developers are developing the ad blocking software and testing it on iOS 9's sizable group of beta testers.
Here is the review of some ad blocking applications:
IOS 9 Content Blockers: 1Blocker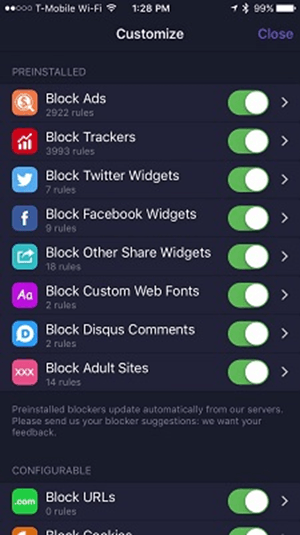 1Blocker dispatches with 7000 pre-installed blockers. These include ad blocking, tracking scripts and other unwanted content that run in background of the web page. The company claims that using 1Blocker will save battery, 1Blocker will decrease page loading time and data usage by 50% that will ultimately save you the mobile data.
For using this app you have to first enable it in settings and then you can customize its settings in the 1 Blocker. The most exciting feature of this app is that you can choose the content you want to block. There is also a toggle button to switch on and off to block the things like Facebook widgets, share widgets, trackers and cookies. There is also an option for blocking the adult sites.

The users who understand the things at a technical level, this app allows you to set some narrow rules, you can choose to block the first party or third party cookies from specific or all domain. This app is also integrated with the web editor at my.1blocker.com, it allows you to customize your settings on your desktop and then send it to your phone.
The free version of the app will allow you to block ads and tracking scripts, to avail the other blocking options there will be in-app purchase of $2.99.
IOS 9 Content Blockers: Blockr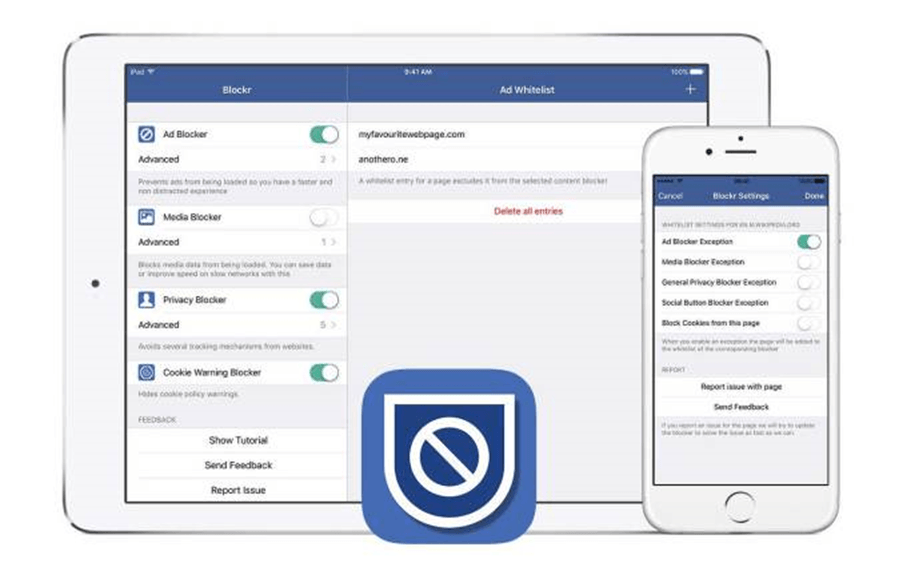 This is a less customized app, enables you to block the content including ads, tracking scripts, media, cookies etc. You can customize the settings to some extent, like 1Blocker it does not allow you to set the specific rules for blocking the content or you can say Blockr takes a more simplified approach to customizations.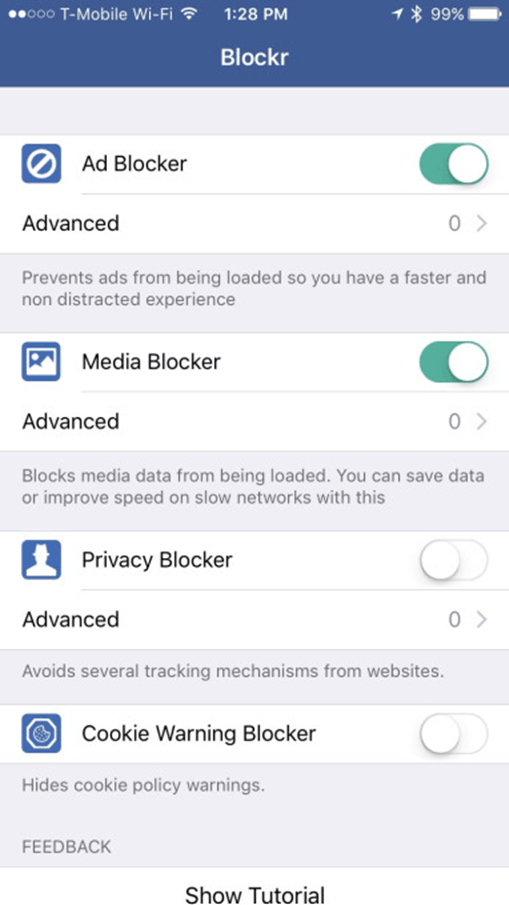 On the main screen of the app you can turn and off the blockers (images, ads, media etc).
Blockr is developed by German developers Tim Poller and Arno Appenzeller. As said by them the Blockr will offer other type of blockr in the future. The will cost you $0.99 at launch and further upgrade will increase the cost to $1.99.
Img-source techcrunch.com
Have something to add IOS 9 Content Blockers ? Please add in comments.
Follow us on Facebook, Google Plus and Twitter to get more Tech News and reviews.